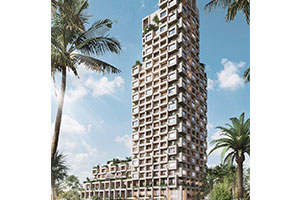 Posted on :Friday , 28th October 2022

The Indian Ocean island of Zanzibar is planning the world's tallest timber apartment, a 28-story residential structure built with hybrid timber technology.
The magnificent high-rise, known as Burj Zanzibar (the Arabic word "burj" means "tower"), is intended to rise significantly 96 metres. As the first timber construction of this size in the entire world, it would be known as "vertical green town" and serve as an iconic monument for the island, all of Africa, and for environmental protection.
Timber is the world's oldest building material. Because of its environmental benefits and longevity, timber technology is currently experiencing a rebirth. New wood products such as cross-laminated timber (CLT) and glulam are seen as future building materials. One cubic metre of wood binds half a tonne of CO2, whereas traditional concrete building accounts for 25% of CO2 emissions.
Once completed, Burj Zanzibar will be the tallest timber structure in the world and the first high-rise ever constructed in Africa. The Council on Tall Buildings and Urban Habitat recently approved Milwaukee, US's 86.6-meter Ascent Tower as the tallest timber hybrid structure in the world (CTBUH). The 385-meter office tower in Egypt known as the "Iconic Tower" is the tallest conventional skyscraper in Africa and is still under construction.
On October 1, the public in Muscat, Oman, was given a tour of the design of the mixed-use apartment and commercial complex, which features an amusing beehive design and views of the ocean. Leander Moons, a Dutch-born architect who created the design, stated of Burj Zanzibar: "Burj Zanzibar is not only an extraordinary skyscraper; it is a new environment for the future of living."
The 266-unit residential tower will be built in East Africa's first eco-town, Fumba Town, which was created by German-led engineering company CPS.
The expanding town, which is close to the capital and where foreigners are encouraged to invest, spreads along a 1.5-kilometer seashore on the southwest coast and is categorised as a strategic investment and has the full support of the Zanzibar government.
According to CPS CEO Sebastian Dietzold in Muscat, "Burj Zanzibar will be the highlight and natural continuation of our efforts to create sustainable housing in Africa, thereby empowering local jobs and enterprises."
The Burj Zanzibar will establish a new standard for construction in the twenty-first century, said CPS director Sebastian Dietzold.