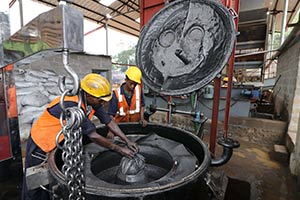 Posted on :Monday , 27th February 2023
The 18 000 tpy flake graphite production facilities at the Sahamamy project in Madagascar have begun operation, according to Tirupati Graphite plc, a specialist graphite and graphene firm creating sustainable new age materials. Thus, the business has achieved a 30 000 tpy flake graphite capacity that is important on a global scale and is moving closer to a steady state >80% production in the near future.
Highlights of the Sahamamy project include the completion of construction, installation, and commissioning of new facilities with a nameplate capability of producing 18 000 tpy of flake graphite and the start of commercial production.
With the ability to mine about 450 000 metric tpy of run-of-mine graphite ore, a new mining machinery fleet. Two pre-concentrate plants with a combined ore processing capability of 400 000 tpy each can process 600 metric tons of ore per day. a preconcentrate plant that can make 18 000 tpy of flake graphite, and a final concentrate plant that can. Preconcentrate product is transported via a 3 km long slurry conveying system from preconcentrate units installed at the Sahasoa deposits to the final concentrate unit. Facilities for processing plants' water and tailings control, among others, as well as stores, offices, laboratories, and residential spaces.
The preconcentrate plant's head grade feed was within the desired range of 4 to 5%, and the desired output grade of >95% was attained. The business will now ramp-up production and commercial sales now that the mining and processing operations have been fully commissioned. The commissioning of the new facilities has not presented any major difficulties, and by March 2023, operations are anticipated to be operating at a minimum stable output of 80% of nameplate capacity. Due to cyclone Cheneso's weather-related disruptions and shipment delays, the startup of these new facilities was postponed by three months.
The executive chairman, Shishir Poddar, said:
"The new 18 000 tpy Sahamamy project's beginning of production marks an important turning point for us. This increases our capacity to produce 30 000 t of premium flake graphite, further solidifying our place as a market leader. I want to express my gratitude to the ground crew for their work, especially in light of the challenging weather conditions they encountered.
"The future is extremely bright for the demand for graphite worldwide. For the foreseeable future, graphite demand and price will be driven by the ongoing expansion of the electric vehicle industry, with sales surpassing 10 million in 2022. Supply security is essential for the development of the EV market. While we will remain focussed on bringing our projects to nameplate capacity production in the immediate term, we will continue to grow to the 84 000 tpy productions from our Madagascar projects and engage in furthering the development of the assets we are acquiring in Mozambique to seize opportunities the energy transition and green economy brings to us."