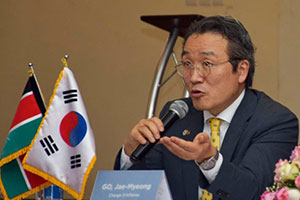 Posted on :Friday , 27th January 2023
ANTARA: Jakarta In order to establish Kenya as an export hub for Africa, the Coordinating Ministry of Maritime Affairs and Investment revealed its strategy.
"We just arrived from Africa last night. We came from Zimbabwe, the Congo, and Kenya. Currently, we are looking at the Indonesian market there "According to Septian Hario Seto, deputy of investment coordination and mining at the Coordinating Ministry of Maritime Affairs.
The statement was made by Seto during the BRI Micro Finance Outlook 2023, which was available here on Thursday. He claimed that Kenya is one of the African nations with a strong economy. Additionally, the East Africa Economy Community exists for the nations of East Africa.
It is a regional economic community of six members, including the Republic of Burundi, Kenya, Rwanda, South Sudan, Kongo, and Tanzania, and a combined GDP of USD 41 billion.
"In the nations of East Africa, there is a free market. Additionally, this has the potential to turn Kenya into an export centre for Africa in the future "He clarified.
Luhut Binsar Pandjaitan, the Coordinating Minister of Maritime Affairs, recently posted on his personal Instagram account, @luhut.pandjaitan, stating he recently travelled to Kenya for business in order to discuss some pledges and agreements with their government.
To strengthen their bilateral ties and collaborate in ways that would benefit both parties, Indonesia and Kenya will also establish a Joint Task Force.
He added, "In the near future, the Joint Task Force will be established to launch negotiations on economic cooperation that are targeted at three priorities: trade and investment, mining, and strategic defence industries.
The minister added that Indonesia had successfully allotted a vast amount of natural resources for the sustainable development of a number of industries, including new and renewable energy, mining, electric vehicles, pharmacies, the defence industry, digitization of public services, and port operations.
In all four sectors, "we indicated that Indonesia is ready to share its best expertise and techniques with Kenya," he added.