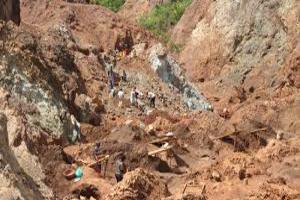 Posted on :Friday , 29th September 2017
Cabinet Secretary for mining, Mr. Dan Kazungu has stressed the importance of everyone involved in the mining trade to adhere to the rules and regulations stated in the Mining Act. He emphasized the need of valid export permits, while conducting business relating to mining.
"A lot of revenue that is meant to be generated through taxation and royalties are bringing lost to the increased shipment of illegal minerals," Kazungu said at the port of Mombasa.
This comes as a measure to overcome the wave of smuggling taking place in the country. Kenya is known to be a point of entry into the whole of east Africa, and it's geography is what makes it an attractive target for smuggling activities.
Minerals are being procured from countries like the Democratc Republic of Congo (DRC), the Central African Republic (CAF) and Tanzania.
The illegal merchandise being smuggled include a variety of times inclusive of copper, gold, ore, gemstones, rubies, tsavorites and diamonds .Steps have been taken to in the form of major changes in the sector's fiscal regime, for mining activities to meet the conditions laid out in the latest Mining Act 2016 and also meet standard global practices at the same time.
An estimated USD 50 million is lost to illegal activities annually with the extractive sector accounting for 56.2 percent loss, according to a study from the united Nations Economic Commission.