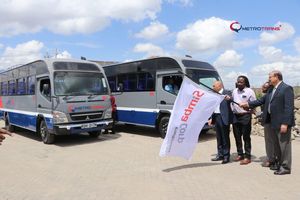 Posted on :Tuesday , 28th June 2022
MetroTrans East Africa has spent Sh389 million on a fleet of 80 new FUSO buses in an effort to reduce public transportation demand in Kenya.
The venture is a leasing partnership between National Bank of Kenya (NBK) and Simba Corporation as they attempt to address the increasing demand for public transportation as the population grows.
Nairobi now has around three million residents and a daily population of 4.5 million people who must travel through the city.
MetroTrans chief executive Oscar Rosanna stated at the delivery of the first batch of 25 FUSO Canter buses by Simba Corporation that the decision is a reaction to rising demand on their existing routes.
It also intends to better serve consumers by accepting cashless payments using the SWVL app, which allows users to make and track appointments.
He stated that the logistics company expects another 55 buses by the end of the year, which will be utilised to gain foothold in older routes and to join new routes.
Mehul Sachdev, product manager for pick-ups and buses at Simba Corp, stated that FUSO has more than 50 years of expertise in the commercial vehicle sector, which has resulted in the brand delivering the best vehicle for all bus and truck classes — light, medium, or heavy-duty.