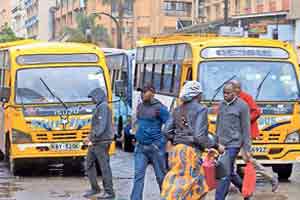 Posted on :Wednesday , 24th April 2019
The competition for affordable and decent modes of transport continues as the digital startup Voltic Africa plans to introduce a booking App that allows commuters book bus tickets to and from the Nairobi Central Business District in the next 18 months.

The announcement comes a month after the organization launched a bus booking App I-abiri where travellers can book up to 10,000 bus routes across East Africa.

Chief Executive Officer Voltic Africa Fowzi Ahmed says the systems will be cashless creating accessibility where the tickets can also be used for more than one purpose in long or short distance travels.

"Town service is very exotic, and the industry is very complicated, however, we intend to build convenience for our customers not only for the long-distance travelers but also for our town commuters," said Fowzi.

According to the officials, the introduction of a booking app created to suit town commuter needs will help reduce Matatu traffic in the Nairobi CBD.

"Sometimes there is no point of the vehicle moving around when the utilization of the vehicle is not well understood and whether it is making money or not. Once we fully introduce a product for town service the congestion in town will be easily feasible where you can monitor how much money the matatu has made according to the trips and afterward decide if it should or not be on the road," said Fowzi.

This is inclusive of the Bus Operators Service System where it controls all operations that include buying tickets and buying of spare parts as well.

Fowzi added that creating the I-abiri took them five years after thorough research and having to design and redesign the system something he says all bus and matatu operators should opt implementing.