Media/Press Releases
The event is very well advertised and promoted on all platforms as follows :
Email Campaigns

Newsletters

Flyers

Billboards & Hoardings

Road shows

Email Invitations
Advertisement on local newspaper
Published on 26th March, 2022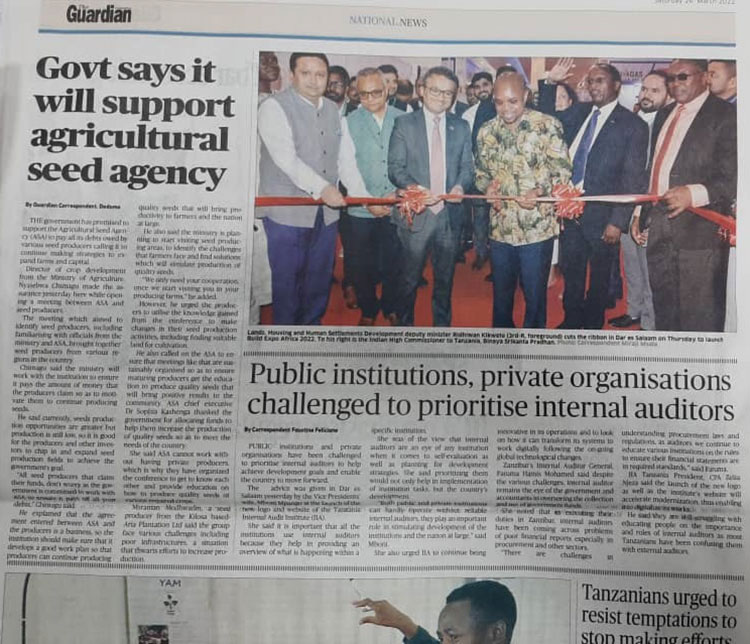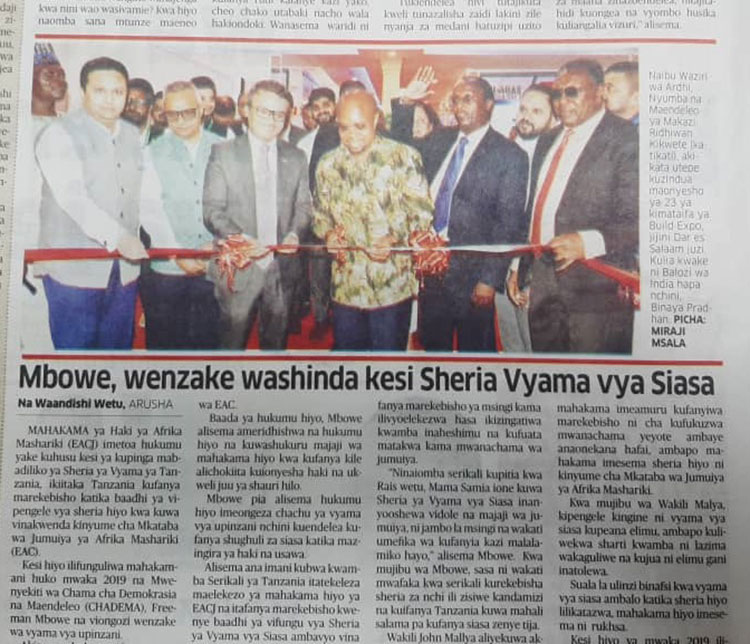 POWER & ENERGY TANZANIA 2022 - Coverage on TBC Tanzania
Published on 26th March, 2022
International Trade Exhibition On Power and Energy Products Equipment & Machinery
Published on March 18, 2022
Dar es Salaam get ready to meet the international leaders in the energy industry this week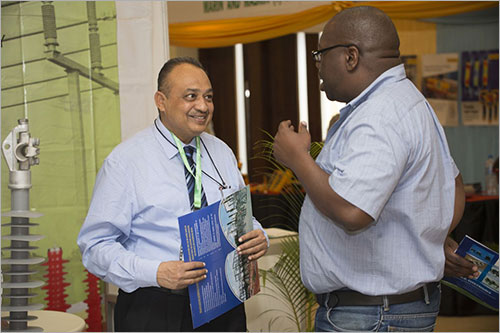 The 6th Power and Energy Africa international trade exhibition is scheduled to take place in Dar es Salaam, Tanzania from 24th to 26th of March 2022 at the Diamond Jubilee Expo Center. Will be inaugurated by Mr.Ridhiwani J.Kikwete - Deputy Minister for Lands, Housing and Human Settlements Development, Government of Tanzania. Also gracing the event are Ambassadors, trade delegations and representatives from various countries and ministries including the Ambassador of The Republic of Korea, Hon'ble Mr. Sun Pyo Kim, Mr. Raj Kumar Ganger, Second Secretary (Com.), The High Commission Of India, Mr. Ken Walsh, Senior Commercial Counselor, Embassy of The United States, Mr. C. Masocha, Counsellor, The Embassy of Zimbabwe, Ambassador of Palestine, Hon'ble Mr. Hamdi Mansour Abuali, Ambassador of Zimbabwe, Hon'ble Lt. Gen. (Rtd) A.N. Sanyatwe, High Commissioner of Mozambique, Hon'ble Mr. Ricardo Mtumbuida, Mr. Ipyana Moses, Executive Secretary, Executive Secretary, The Institution Of Engineers Tanzania (IET), Dr. Fred M. Msemwa, Chief Executive Officer, Watumishi Housing Company, Ms. Philomena Tesha, Chief Executive Officer, Tanso Investment Limited, Ms. Latifa A. Kigoda, Communication Officer, Tanzania Investment Centre, Dr. Maduhu I. Kazi, Executive Director, Tanzania Investment Centre.
The event has international participation from countries such as India, Egypt, South Africa, Denmark, Oman, Ireland, Italy, Germany, China, Turkey promoting major companies in the industry which are looking for dealers and distributors for their products in Tanzania. The event is open for visiting from 10:00 AM to 6:00 PM during the exhibition days.
This edition will also see leading manufacturers presenting under their respective categories including oil and gas technologies, solar as well as industrial tools and machinery. Leading manufacturers and suppliers will be showcasing products and equipment specific to these industries as well. The event will be a vital part of a growing infrastructure industry in Africa. A few key mentions include Macroplast Transformers, Incom Egypt, Onka, Jinko Solar, Bicc Cables, Umr Industries, Giza Power Industry & Electro Cable, Portwest, Pacific Petroleum Limited / Trinity Energy Limited, Biyaq Oilfield Services LLC, Landi Renzo SPA, Asar Ltd, Motorola Mototrbo - Agrovision Ltd and many more.

The Power and Energy Africa is an unrivalled trade fair in Tanzania, it is the most awaited international power and energy exhibition in the region. It provides an outstanding opportunity to present the latest technology and innovations in the power and energy sectors to an international audience. Leading companies are here to look for distributors and dealers for long term partnerships, providing an opportunity for Tanzanian business community to explore new products and increase their business and earnings.
Tanzania is perceived as an exciting country for investors who are willing to explore the opportunities and make inroads into this lucrative market. The international trade exhibition is the ideal forum to provide the additional fuel for national prosperity.
For any further assistance, please contact :

Johnson Mkoka
Media Manager
Medexpo Africa
Email: johnson.m@expogr.com
+255 652 496767

Jacinth Moses
Public Relations Manager
Email: jacinth.m@expogr.com
Int'l: +971 43050755
POWER & ENERGY 2022 - Event Advert on Advertising Dar
Published on 04th March, 2022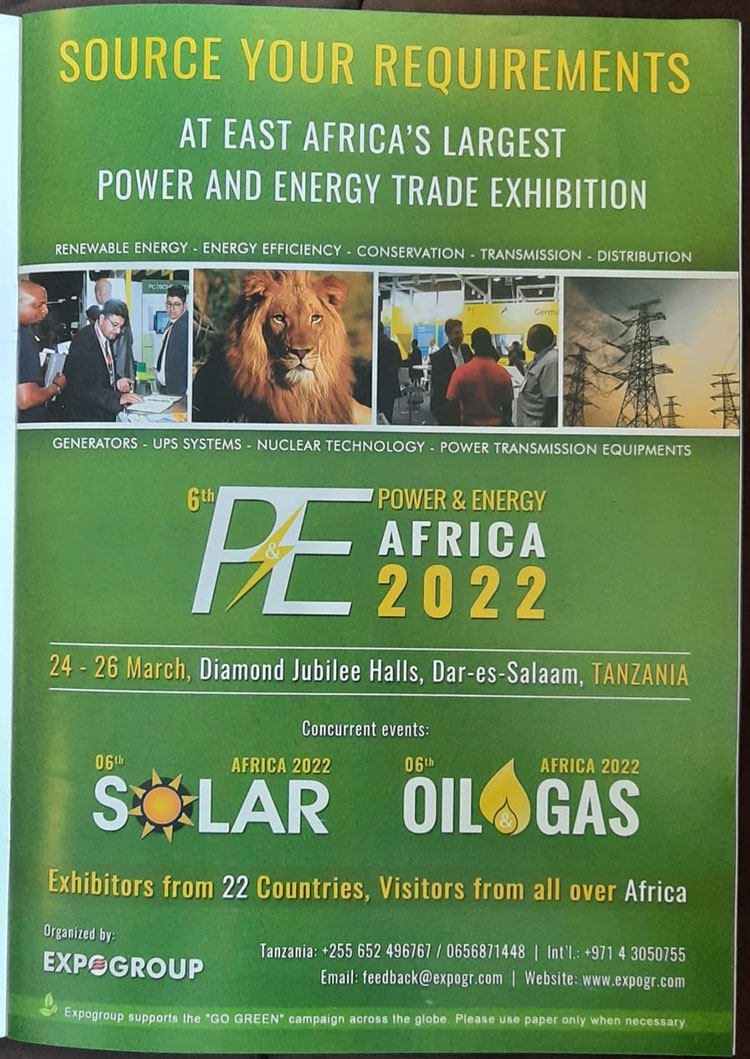 POWER & ENERGY 2022 - International Trade Exhibition | TV Commercial
Published on 25th February, 2022
EVENT ADVERTISING - BILLBOARDS
Published on 27th September, 2019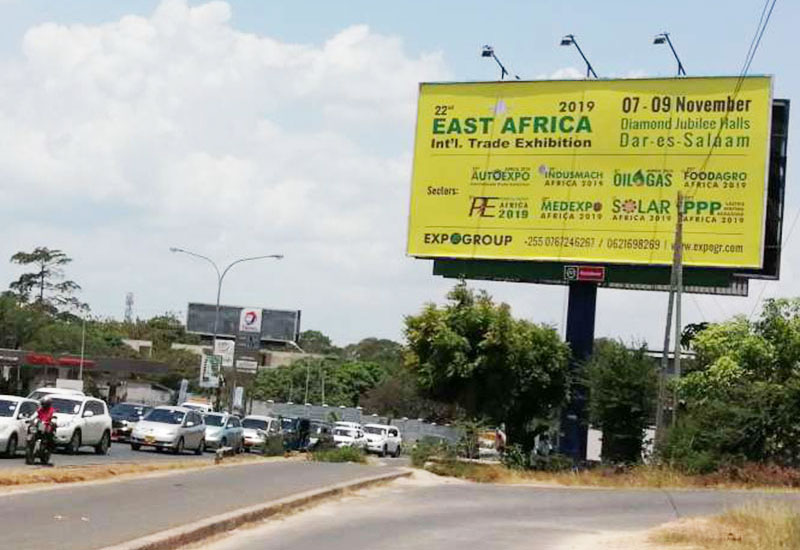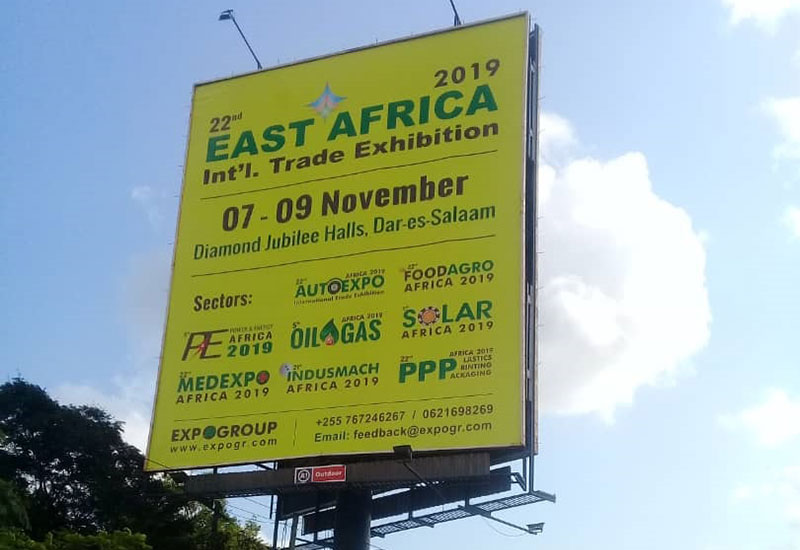 Event Coverage on local news channel EATV.
Published on 21st Nov, 2018
EVENT ADVERTISING - BILLBOARDS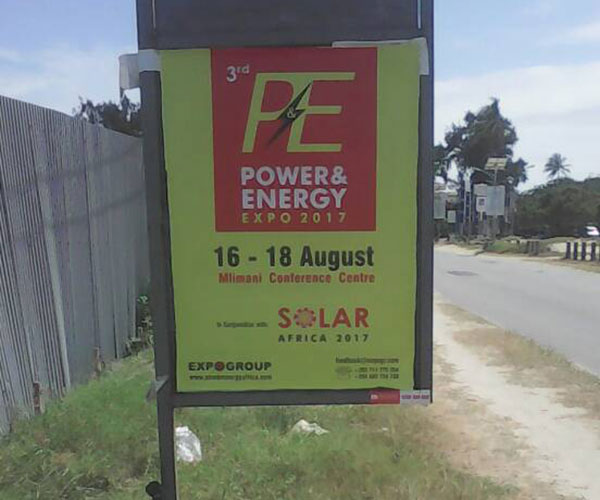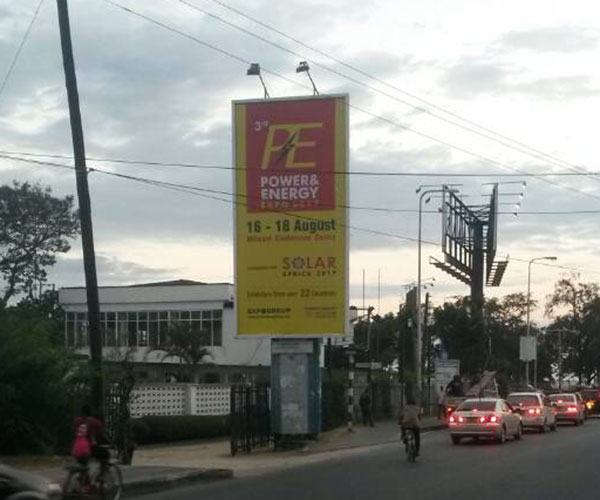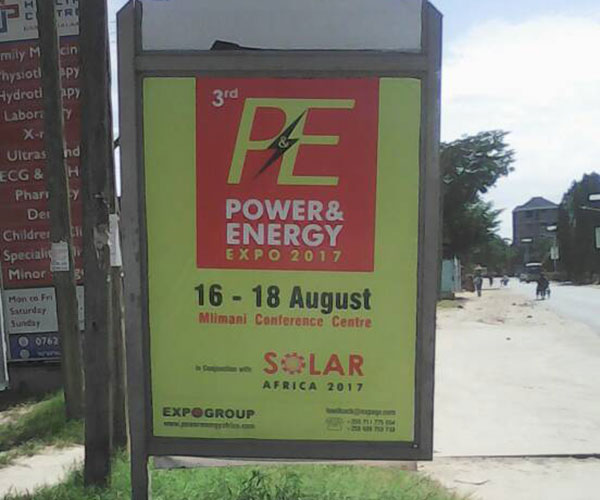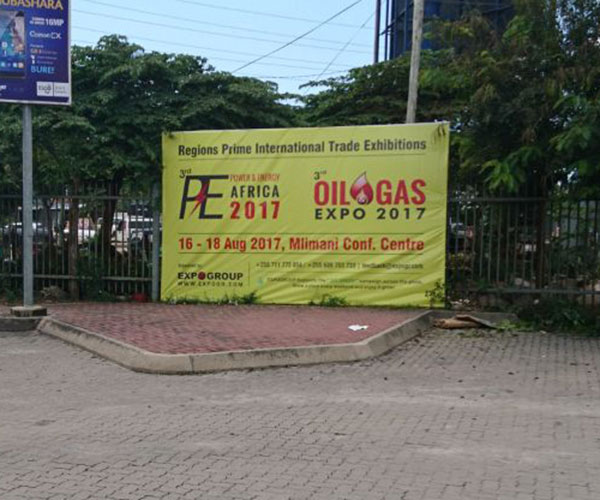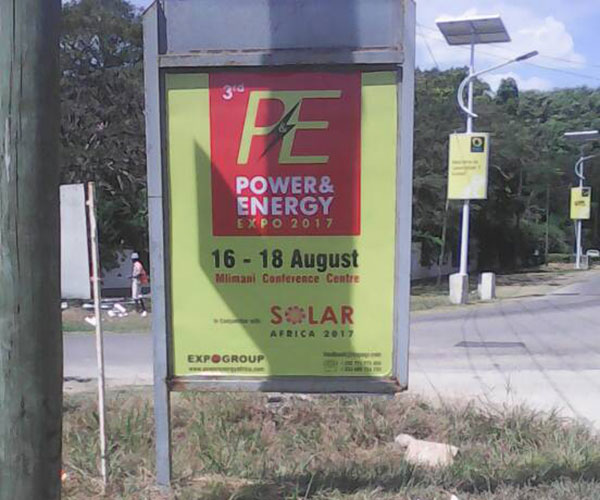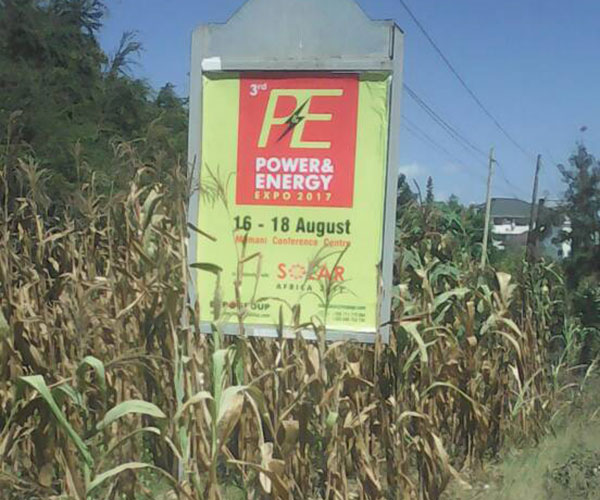 POWERING THE FUTURE OF AFRICA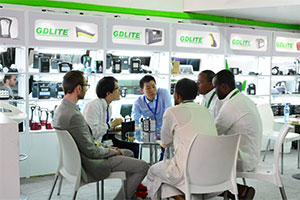 POWER & ENERGY and SOLAR AFRICA, East Africa's largest exhibition taking place on 11 - 13 April at the Kenyatta International Conference Centre in Nairobi, Kenya; 12 – 14 May at the Millenium Hall in Addis Ababa, Ethiopia; 12 - 14 July at the Kigali Convention Center in Kigali, Rwanda and 16 - 18 August at the Mlimani City Conference Centre in Dar-es-Salaam, Tanzania. The show has not only witnessed a 45% increase in exhibitors as well as visitor attendance over the past two years but has also grown right alongside of the exhibitors, building the trust that is required to ensure the permanence of the event. Expogroup announced the launch of Power & Energy and Solar Africa in Rwanda and Ethiopia on the occasion of their 20th anniversary in Africa.
POWER & ENERGY and SOLAR AFRICA has been one of East Africa's fastest growing sectors. To meet demands, the 2017 events will feature a Conference like never before dedicated to Power & Energy and Solar Sector with renowned speakers from different backgrounds of the Industry.
The recent revival in the region's Power & Energy and Solar sector is expected to increase the demand for electricity in East Africa to grow at approximately 5.3 % each year until 2020. To meet these requirements, generation capacity would have to increase by 37.7 % in Uganda, 96.4 % in Kenya, 75.3 % in Tanzania and 115 % in Rwanda. The governments, in conjunction with development partners, are preparing to build a more favorable business environment to facilitate growth.
East Africa has the potential for a diverse range of energy sources, most of these sources are untapped, including coal, geothermal energy, biomass, solar power and wind and there is therefore a high reliance on hydropower and Solar energy.
It is crucial for global investors to understand the unique opportunities and challenges of the individual countries within the region. Government focus on energy development, will provide a platform for both private and public sector participants to contribute. The private sector is definitely interested in investing; therefore POWER & ENERGY and SOLAR AFRICA provides the platform to showcase finest companies in business and to reap the benefits.
POWER & ENERGY and SOLAR AFRICA is today regarded as one of Africa's most dynamic international Trade exhibitions. Since its inception, Expogroup has envisioned the event to evolve as one of the most awaited and eagerly participated events in Africa. Through committed endeavor and a no-comprise attitude to service, the company has brought that vision to reality. POWER & ENERGY and SOLAR AFRICA is the interactive arm of Expogroup's activities and the event offers an appropriate platform for outsourcing collaborations, explore new business avenues, enhance your current business, look for beneficial tie-ups and will create opportunities for business visitors to interact with International Exhibitors.
Come be a part of this change!!!
POWER & ENERGY / SOLAR AFRICA 2017:
KENYA: 11th – 13th April – KICC, Nairobi, Kenya
ETHIOPIA: 12th – 14th May – Millenium Hall, Addis Ababa, Ethiopia
ETHIOPIA: 12th – 14th July – KCC, Kigali, Rwanda
TANZANIA: 16th – 18th August – MCCC, Dar es Salaam, Tanzania
For more information on these events please visit: https://powerenergy.expogr.com/
POWER & ENERGY TANZANIA 2017 - One stop solution for latest in technology & business opportunity in the Power & Energy Sector
EXPOGROUP is getting set to flag off the first ever Power & Energy Exhibition & Conference 2017 from the 7th to the 9th of July, 2017 at Tanzania's prime international venue; the Mlimani Conference Centre in Dar-Es-Salaam. Attracting delegates and attendees from over 22 countries across Africa and around the world, it is the industry's premier conference and exhibition dedicated to the power generation, renewable and alternative energy & distribution industries.
Africa has experienced massive internal growth in major areas within the last 27 Years which have contributed greatly to investor's assets and one area in particular is in particularly high demand and continuously predicting huge returns - the energy market.
It has already had an impact in creating greater well-being to the people of Africa whilst boosting profits for shareholders involved. Due to this massive interest in the African power sector which includes the UN's 2014 Sustainable Energy for All program and highlights Africa as one of the main areas of focus,
Spread over a period of 3 days, the event brings together decision makers and influencers as well as technical experts and professionals from leading companies involved in the power & energy generation, transmission and distribution sector within Africa and around the globe. Exhibiting at this event will allow you to showcase your products and services to the industry's largest gathering of qualified decision-makers.
Trade visitors from all over East & Central African countries are being invited directly and in collaboration with several regional trade bodies in Tanzania, Kenya, Ethiopia, Uganda, Somalia, Mozambique & Congo. Though Tanzania by itself is one of the biggest markets in Africa, major emphasis is being laid upon attracting traders and importers from neighboring countries.
We invite you to join us in Tanzania from the 07th -09th July 2017 to meet and network with Government officials, senior executives and industry players. POWER & ENERGY AFRICA is the leading conference and meeting place to discuss and discover the latest issues, solutions and technologies to meet the future energy challenges in East Africa.
Website: https://www.expogr.com/tanzania/powerenergy/
For an urgent response, please fax on +971-4-3721421,
For barter requests, publishers and other exhibitions organizers, please click here
To request latest press information, please click here