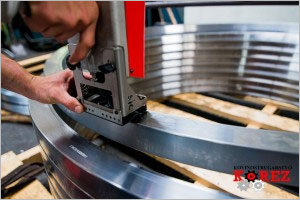 Posted on :Monday , 7th December 2020
"KOVINOSTRUGARSTVO KOREZ D.O.O." has signed up as a gold sponsors at the event in Tanzania "22nd INDUSMACH", in order to explore and expand its magnificent foot holes in Africa market.
"KOVINOSTRUGARSTVO KOREZ D.O.O." is a family company established in 1992 that specializes in machining of metals. In close cooperation with customers, they provide comprehensive solutions and high quality services such as cutting, turning, drilling and milling for the production of individual components or finished products on traditional and CNC machines.
They provide the manufacture of products according to designs prepared in advance or by order based on our own knowledge and experience. Their company adjusts its operation to the customer's needs, assists the customer in finding optimal solutions and strives to maintain long-term partnerships.
Their work is based on modern technology, expert knowledge of the employees and the clear goals and vision of our company. They face new challenges and strive towards a modern approach towards making high quality products for their customers.
For 22 years, INDUSMACH Africa has been chosen by global manufacturers and exporters as the correct platform to enter the market of the millennium Africa.
International Trade Exhibition on Industrial Products, Equipment & Machinery is the largest trade event held annually in Tanzania. The exhibition attracts exhibitors from more than 20 countries and visitors from all over East & Central Africa, thus giving exhibitors an excellent opportunity to explore several countries at one time. Over the past few years, Tanzania has emerged as a major regional trade centre. This is mainly due to the very friendly and business like atmosphere it offers to foreign investors and products. Duties are considerably low and re-exports to neighbouring countries are either very low or exempted.
Visit their website at: http://korez.eu/eng/
News source: https://www.expogr.com/tanzania/powerenergy/