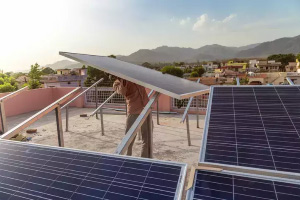 Posted on :Wednesday , 26th July 2023
Residents of Ewangan village within the Sekenani area in Maasai Mara National Reserve are a happy lot after a group of tourists collaborated with Super Africa Wildlife and Adventure Safaris to light their village.
The tourists from Hong Kong, Taiwan and China, led by Allen Yeh, donated 15 solar panels to the village so as to improve their living standards.
The relationship with the village, Yeh said, began seven years ago when he visited the Maasai Mara Game Reserve and developed a special love for the people who were living in the Maasai Manyatta.
Yeh said he was able to connect with the people through his tour guide, Michael Letura, whom he kept communicating with even after going back to his home country; China.
He said Letura informed him of the challenges the people face and requested that he help improve their livelihood.
During the recent prolonged dry spell, he recalled, Letura informed him that his people were struggling to place a plate of food on the table, which touched his heart and together with his friends, they were able to send food that fed the village for 2 months.
Yeh said he worked with close friends from Hong Kong, Taiwan, USA and the tour company to bring the solar panels to the Maasai village.
On his part, Letura lauded the tourists for bringing fortune in the village, saying his constant communication with them has borne fruit for the village.
"I met Allen Yeh 7 years ago when he toured the Maasai Mara National Reserve and I was his tour guide. He took my contact information and promised to keep in touch. My relationship with him has helped the entire village," he said.
One of the villagers, Ms. Mary Kaaria, thanked the group of tourists for their kind gesture of lighting their manyattas.
"They have been very helpful to us. First, they brought us food and we were very grateful. Now they have brought us Solar panels and we know that our lives will be better. Our children will do their homework comfortably and will have a bright future," she said.
She explained that the Manyatta, adjacent to the Maasai Mara Game Reserve, which has about 20 homesteads, is an extended family that shares their successes and sorrows.
"In this manyatta, though we are many, we belong to the same family and we know how to share the little that we have. Everything we receive from the white people we share amicably," she added.
Jack Moniko, a youth from the village, recalled how he struggled to do his homework because of the poor lighting, expressing joy that his children would comfortably study even at the wee hours of the night.
His sentiments were echoed by Emmanuel Kaaria, who thanked the tourists and tour company for their continued support, saying they will charge their phones easily and use other electronics because of the newly installed solar panels.
Super Africa Wildlife and Adventure owner Martin Otieno said it was always a pleasure to give back to the community that is adjacent to the National Reserve, while pledging to continue supporting the village.