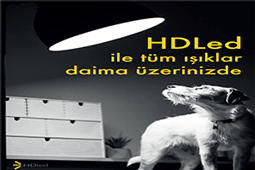 Posted on :Tuesday , 5th April 2022
Hd Led Aydinlatma A.S, a Turkish company has signed up as gold sponsors at the most awaited event in Kenya "07th LIGHTEXPO, in order to explore and expand its magnificent foot holes in Africa market. HD LED LIGHTING brand is an organization where creative brain power, determination to work and knowledge come true.

HD LED AYDINLATMA A.Åž. is a led lighting producer established 2017 in Istanbul/Turkey. Within 10.000 sqmt closed area producing commercial and industrial lightings. With its own R&D department aim to be leader in solar and rechargeable lightings. Turkish Market leading company that aims to increase its impact on Middle East, Africa, Europe and Americas.

LIGHTEXPO 2022 is unique event in the East Africa market. Having being branched out from BUILDEXPO previously, LIGHTEXPO is the largest event for the lighting market in East Africa.

The lighting industry in East Africa is on a globalization drive and is now providing the African consumers a variety of lighting products sourced domestically as well as internationally. In the context of the reduced import duty, the globalization drive is gaining momentum.
Visit their website at: www.hdaydinlatma.com
News source: www.expogr.com/lightexpo/