Posted on :Tuesday , 27th December 2022

The move is probably going to help the Sh190 billion project get extra money.
The Sh190 billion Nairobi-Mau Summit Highway has received a financing commitment from the International Finance Corporation (IFC), a division of the World Bank, in the amount of Sh40 billion (USD 320 million).
The international financier is anticipated to approve the release o. . .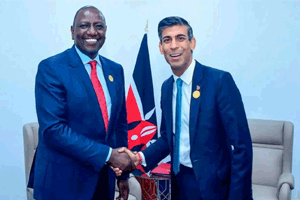 Posted on :Monday , 21st November 2022
The UK government has agreed to invest US$4 billion (KES 500 billion) in Kenya to support the country's efforts to combat climate change.

The UK Prime Minister Rishi Sunak met with Kenyan President William Ruto at COP27, agreeing a five-year investment deal that will see climate finance flow into the African country.

These new, clean and green investments will become flagship proj. . .