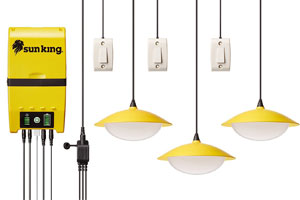 Posted on :Wednesday , 16th May 2018
Greenlight Planet is a for-profit social business that designs, distributes, and finances solar home energy with an under-served population in mind. The company will be showcasing their wide range of trusted Sun King™ solar lamps and home energy systems at the 5th Solar Africa 2018 organized by Expogroup in partnership with Town and County Planners Association of Kenya, EACCIA, and the Ministry of Energy and Petroleum at the Kenyatta International Convention Center (KICC), Nairobi from the 29th to 31st of May.
A truly global enterprise, Greenlight Planet's solar home systems reduce demand for grid electricity, powering not only lights, but a range of home appliances including mobile phones, televisions, fans, and more. Presently it has 11 offices in countries throughout Africa and India. The company plans to steadily grow and expand distribution across Sub-Saharan Africa and also establishing financing programs to make solar energy affordable.
The 5th Solar Africa 2018 in Kenya will introduce the company to more than 80 exhibitors from 22 countries. This will help the firm grow their business in a potentially huge market and will also give them an opportunity to engage with the customers of the East African region, assess their needs and introduce them to their latest products.