Posted on :Tuesday , 11th December 2018
Altus Strategies a UK-based mining company, announced the revelation of what the company calls "the Simret silver prospect" at its 100%-owned Daro project, located in the Tigray Regional State in East Africa.
In a media statement, the project generator MNC said that Simret showed silver grades that include . . .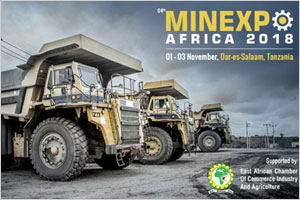 Posted on :Thursday , 1st November 2018
Africa's largest International Mining Technology Trade show is back in Dar es Salaam, Tanzania from 1st – 3rd November, 2018. Hon'ble William Vangimembe Lukuvi, Minister for Lands, Housing and Human Settlement Development will inaugurate the 4th Minexpo 2018 on the 1st of November 2018. The event is one of the leading mining trade shows, showcasing the widest range of in. . .