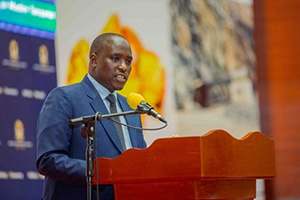 Posted on :Wednesday , 1st November 2023
The accommodating atmosphere in the mining sector of the country has attracted both global and local investors, according to Deputy Prime Minister Dr. Doto Biteko.
Dr. Biteko delivered the remarks in Dar es Salaam during the two-day 2023 International Mining and Investment Meeting, which was supported by Geita Gold Mine Limited (GGML).
Bringing together more than two thousand participants from both inside and outside the nation, he claimed, is evidence that the government is committed to developing and advancing the mining industry, which benefits everyone equally.
He claimed that in order to entice investors to make investments, the government has made the decision to spend money on top-notch research to determine whether mineral deposits exist. By taking this action, the nation will be able to overcome the current obstacles to updating geological knowledge in several locations.
The country's mining sites will open as a result of the discovery of fresh reserves, according to Mr. Anthony Mavunde, Minister of Minerals, which would boost government revenue and provide jobs for Tanzanians.
Mr. Mavunde declared, "When it comes to investment, there will be no bureaucracy; our job is to create a friendly environment so that there will be benefits for all parties."
Speaking at the meeting, Simon Shayo, Vice-President of AngloGold Ashanti - Geita Gold Mine for Tanzania and Ghana, explained how the government has made significant improvements to the mining sector, allowing them to focus on community development and funding local projects.
"We also gave workplace health and safety first priority," Mr. Shayo stated, "and we can cite the company's Corporate Social Responsibility (CSR) program that has enabled the people around the mine in Geita region to get water service by more than 70%."