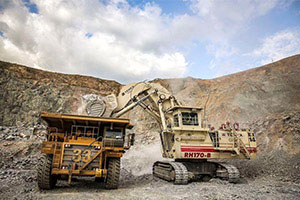 Posted on :Tuesday , 6th June 2023
Tanzania and Australia decided to strengthen their business relations.
Mr. Scott Morriss, the Australian Trade Commissioner for Africa, visited Tanzania to promote trade ties and increase Australia's involvement in the mining and energy industries.
Mr. Morriss and Dr. Doto Biteko, the minister of minerals, hosted a reception for Australian companies operating in Tanzania that offer mining, machinery, technology, and services.
Mr. Morriss praised the government's initiatives to foster a favourable business climate and asserted that Tanzania had what it took to be the best investment location.
"Australian businesses are hopeful for Tanzania's mining sector's future. The Australian government is happy to support their work in Tanzania by introducing best practises from around the world to the industry, he said.
Mr. Morriss expressed his satisfaction at the advancement of significant, crucial mineral projects in Tanzania by Australian businesses.
For the mining of graphite and rare earths, the government has contracts worth 667 million USD (or roughly Sh1.6 trillion) with three Australian businesses: Evolution Energy Minerals, EcoGraf Ltd., and Peak Rare Earths.
Mr. Morriss claims that Australian businesses invested between 3 billion USD and 4 billion USD (roughly Sh7.2 trillion and Sh9.6 trillion) in Tanzania, resulting in the creation of thousands of jobs and substantial financial benefits for the host nation.
According to him, there are currently about 16 Australian businesses that help Tanzanian mining operations follow international best practises through their knowledge and experience.
According to Mr. Morriss, Australia is closely collaborating with Tanzania to help it realise its goal of increasing the extractive industry's share of Tanzania's GDP from the current 9.7% to at least 10% by 2025.
Doto Biteko, Tanzania's minister of minerals, claimed that the country's mining industry is flourishing.
Dr. Biteko elaborated that in order for Tanzania to achieve its goal of expanding the sector, more foreign investors still needed to travel there and make investments.
'Tanzania is always open to receiving additional Australian businesses as well as other international investors who wish to make investments in the mining industry,' he declared.
He claimed that without foreign direct investment, the nation's goal of contributing 10% to the GDP by 2025 could not be achieved.
Australia is reviving relations with Africa, according to Ms. Anna Rabin, the honorary consul of Australia in Tanzania. It gave us pleasure to reopen the Australian Consulate in Tanzania recently.
Our two nations have a lot in common, especially as internationally desirable mining locations. For Tanzania and Australia's mutual benefit, we anticipate expanding this alliance.
In order to promote partnerships with the local community and deepen engagement, Mr. Morriss met with Australian investors and local partners in Tanzania last week.
He met with representatives of the World Bank, the International Finance Corporation (IFC), and the Tanzania Investment Centre (TIC).