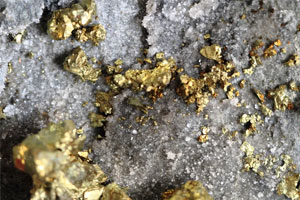 Posted on :Monday , 31st October 2022
With the first gold pour scheduled in March 2023 at Tanzania's Singida gold mine, Shanta Gold will become a producer of more than 100,000 oz of gold per year.
With production rising 11% from the previous quarter, the team has once again produced a very solid operational performance. The Singida project's construction is moving along nicely, and CEO Eric Zurrin reports that the first gold pour is still scheduled for March 2023.
"Our top-notch health and safety standards continue to support this operational excellence, as seen by the more than one million man-hours completed at New Luika without a Lost Time Injury.
The withdrawal of the USD 20 million loan facility has helped us maintain a strong liquidity position, which we are utilising to speed up Shanta's portfolio growth. I am optimistic about the expansion opportunities open to Shanta as we shortly become a +100,000 oz producer in Q1,2023, with a diverse asset base and an improved balance sheet. I would like to express my gratitude to everyone of our staff for their ongoing efforts, and I look forward to providing further market updates in due course.
With a total of USD 27 million invested since the project's inception in 2021 and just about USD 12 million left as of the end of September 2022, work is still on schedule and within budget; Due to orders for large capital goods being placed in early 2021, before inflationary pressures, and great oversight from the Singida team in Tanzania, no material cost inflation has been incurred in the construction costs.
The installation of the crusher and its parts was concluded in the quarter, and a successful cold commission was carried out: The thickener's manufacturing process is 90% complete, and shipment from India will begin in November 2022; At the conclusion of the quarter, Singida's ore stockpile level was 127,767 t, with an average grade of 2.34g/t for 9,613 contained ounces.
The update was provided as part of Shanta Gold's Q3, 2022 financial results, which also indicated that full-year 2022 output is anticipated to reach the low end of the guidance range of 68,000 - 76,000 oz, with gold production of 19,532 oz (Q2: 17,527 oz), up 11% from Q2, 2022 production.