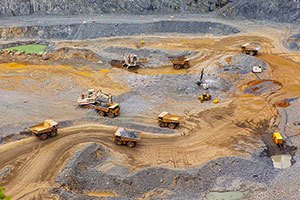 Posted on :Thursday , 26th August 2021
Tanzanian Gold Corporation reported third-quarter 2021 results. TanGold's Chief Executive Officer, Stephen Mullowney, remarked, "The Company and Buckreef Gold have continued to make tremendous progress this quarter." We designed and are currently implementing a strategy to reduce cash burn at the Buckreef Gold operational level by upgrading the oxide test plant circuit. This approach ensures the continuation of the core staff while increasing mining activities in the short term. We are forming a strong exploration triangle with the finding of Buckreef West and the Anfield Zone, as well as the ongoing exploration potential of the Buckreef Main Zone. Finally, we were extremely happy with the preliminary metallurgical report's outstanding results, which we feel provide a solid platform for the advancement of a complete feasibility study on the sulfides.'
Tanzanian Gold Corporation, in collaboration with its joint venture partner, STAMICO, is developing a major gold project in Tanzania at Buckreef, based on an increased Mineral Resource base and the treatment of its mineable Mineral Reserves in two standalone facilities. The measured mineral resource is now 19.98MT at 1.99g/t gold and contains 1,281,161 ounces of gold, while the indicated mineral resource is 15.89MT at 1.48g/t gold and contains 755,119 ounces of gold, for a total tonnage of 35.88MT at 1.77g/t gold and contains 2,036,280 ounces of gold. The Buckreef Project also has an Inferred Mineral Resource of 17.8MT at 1.11g/t gold for 635,540 ounces of contained gold. On its land, the company is actively researching and evaluating a number of exploration possibilities. For further information, please see the Company's Updated Mineral Resources Estimate for the Buckreef Gold Project, dated May 15, 2020.
In the third quarter of 2021, Buckreef Gold reported zero lost time injuries, zero medical aid occurrences, and no COVID-19-related instances. In the third quarter of 2021, there were no reportable environmental or community issues.
Buckreef Gold will proceed with plans to develop a second 40 tph oxide mine while continuing to operate the 15 tph oxide mine. The Company is now finalizing the 40 tph oxide mining plan and financial models for this operation, which SGSC is also assessing. Buckreef Gold intends to run the 15 tph oxide plant for the first 18 months while building the 40 tph oxide plant.
The 40 tph and 15 tph oxide plants will be located in different locations on the Buckreef Special Mining License, and the Company, in collaboration with Buckreef Gold, will evaluate the possibility of expanding the oxide mining operation to a 55 tph (40 tph + 15 tph) capacity over the medium to long term. The 40 tph oxide mining operation intends to use dry stack tailings, whereas the 15 tph oxide mining operation intends to use wet tailings. Based on the original mine design and grade profile, the 40 tph oxide mine operations are estimated to be capable of producing 15,000 - 20,000 oz. of gold per year.
In the coming months, the Company will complete the testing phase of the 5 tph oxide test facility. Through its testing program, it has achieved objectives relating to oxide mill feed grind, clay processing, retention periods, and how to obtain greater recovery rates. Buckreef Gold has also been able to validate the grade control block model and confirm anticipated operational cost inputs such as mining and processing expenses for oxide mining operations of 15 tph and 40 tph. More crucially, this information has been used to design the 15 tph and 40 tph oxide mining operations, significantly reducing the risks associated with these operations.