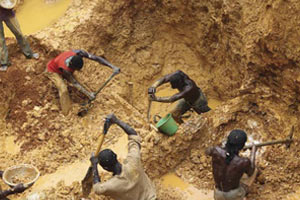 Posted on :Wednesday , 30th September 2020
More than 100 standards have been developed by the Tanzania Bureau of Standards (TBS) to be used in the security of the mining industry for products and services engaged in drilling, production and processing. TBS spokesperson Roida Andusamile said, As the expansion of the mining sector has contributed to higher economic growth and increased exports and capital inflows in Tanzania.
TBS has created standards that will ensure safeness in the sector. Ms. Andusamile added: "These standards will cut across to both large and small scale miners. The reason behind to formulate these standards is to make sure that mining activities in the country are conducted in a safe environment."
Exclusively, TBS has the role to undertake measures for quality control of products of all descriptions and to promote standardization in industry and commerce countrywide. That's why they developed these standards to control quality in the mining and minerals sector.
TBS Standards Officer in Mining and Minerals Filbeta Magidanga said they are proud to say that there are more than 100 standards that have already been gazetted for the mining and minerals sector. Standards such as guidelines on the establishment, use and management of refugee chambers and classification of mine accidents ensure the safety of personnel during mining activities.
The standards have been developed by the TBS Divisional Standards Committee which has the task to build up standards in terminologies, sampling methods, test methods, code of practices, classifications and specifications for goods and services involved in minerals exploration, extraction and processing.
Ms. Magidanga pointed out that the Committee monitors the functions of nine Expert Committees in the creation of mining and mineral industry requirements. She named areas that the standards will control including exploration, mine planning, operations and services, solid mineral fuels and related products, mining and earth moving equipment.
Others are advanced automated mining systems, ores and concentrate, jewellery, lapidary, gemstones and precious metals, rare earth elements and minerals processing and equipment.
However, TBS is the national standards body for Tanzania established by the government as part of the efforts to strengthen the supportive infrastructure for industry and commerce sectors across the economy within the country.
As part of the government's efforts to improve the supporting institutional framework for the business and trade sectors of the economy, the Bureau was created.