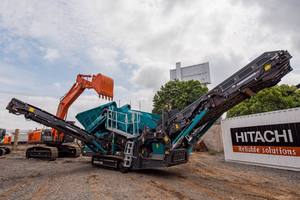 Posted on :Tuesday , 20th August 2019
Rock Plant East Africa, a global leader in construction, quarry and mining solutions is participating at the 5th Minexpo Africa, Tanzania's premier business event for the mining and heavy machinery industry. The international trade event is to be hosted at the centrally located Diamond Jubilee Hall from the 12th to 14th September, 2019. The company is expected to promote its industry-leading range products and machinery to the Tanzanian and Sub Saharan market.
The Minexpo Africa, co-located with the 22nd Buildexpo Tanzania is an engaging and premier exhibition which has a proven track record of successful previous editions all over East Africa. Showcasing a wide range of products, the company looks to promote a range of machinery including Hitachi excavators from 4ton-800ton capacity, Hitachi wheel loaders from 2cum to 10cum, Furukawa rock breakers and drills, Powerscreen rock crushers and screen and Tadano truck mounted cranes ranging from 3ton-9ton capacity.
Rock Plant East Africa has been in the market for the last one decade providing high quality and dependable construction, quarry and mining solutions to the market. They always strive to provide their customers with solutions that best match their applications for optimum productivity coupled with lowest cost of production and low ownership cost which ensures quick return on investment. The success has been attributed to the unparalleled after sales support that is offered to customers ranging from parts sales, training, service and warranty administration.
Showcasing innovative products and strong brand building campaigns have been key drivers in retaining market leadership in this region. The event is the ideal forum for international companies to showcase their products and services to a huge market. Major company leaders from East Africa and surrounding regions are invited directly in collaboration with regional trade bodies in Kenya, Tanzania, Ethiopia, Uganda, Somalia, Mozambique and Congo including top industry leaders, government agencies and trade bodies.
A recent World Bank assessment summarizes that Tanzania has sustained relatively high economic growth over the last decade, averaging 6-7% a year. Regional growth is on an upward trajectory in East Africa, though varying significantly by country. The Sub-Saharan Africa (SSA) region continues to maintain competitiveness in GDP growth when compared to the rest of Africa. According to official statistics from NBS, real GDP grew at 7.1 percent in 2017/18. For the last year, official data for Tanzania report that industrial output grew at 12.1 percent, up slightly from 10.7 percent output in previous period, primarily because mining, water, and construction activities expanded. In 2017/18, mining and quarrying grew by 17.5 percent, water by about 17 percent, and construction by 14 percent. Transport and storage activities, also, grew by 17 percent. Growth in mining was primarily driven by significantly higher coal and natural gas production.
Minexpo attracts a number of the industry's biggest names including experts, stake-holders, directors and other high profile decision-makers that makes it the ideal entry-way into the African economy for interested investors, manufacturers and suppliers. The event is expected to continue to bring the newest and most innovative products from around the world, directly to Africa.