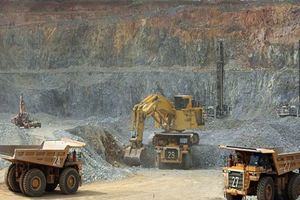 Posted on :Thursday , 22nd March 2018
A new mining act signed into law by President Uhuru Kenyatta could see Kenya's nascent mining industry finally come into its own. Oil companies, like UK's Tullow Oil, have been prospecting in Kenya for a few years now, and they are expected to start production by 2021. Due to a mining law passed late 1940 combined with geological data that was 32 years older than that, Kenya missed out on the mineral exploration boom that benefited it's neighbors Tanzania and Uganda.
The Kenyan ministry for mining was created about three years ago and the sector's size is bolstered by the fact it includes production of cement and soda ash. India's Tata Chemicals partly owns Kenya's largest manufacturer of soda ash the Magadi soda company. Dan Kazungu, the current mining minister, has reportedly envisioned a strategy that he hopes will see up to 20 more operators such as Base Resources in the coming 15 years. Government revenues from mining and mineral operations were just Ks1.65bn ($16.5m) in the last financial year and Mr Kazungu expects these to have more than doubled by June, the end of the financial year, with a goal of 10 per cent of GDP by 2030 — a figure likely to be well over $7bn. This is achievable he says, by attracting foreign investments and registering the tens of thousands of Kenya's informal miners, developing a mining services industry and expanding the small gemstone industry.
Mining experts and analysts say that in addition to gold deposits Kenya also has base metal deposits such as copper, rare earth minerals and some coal. Most believe that the country does not have the prospects of either Uganda or Tanzania, but Mr Kazungu remains optimistic. "We don't even know what we've got," he says. "About 95 per cent of the rock structures coming up from Tanzania have not even been mapped." The aim is to make Kenya a regional hub for mining, as it is for financial services. "We should bring minerals here and do value addition," he says, referring to the processing of raw materials. "About $24bn-worth of minerals go to Thailand each year for value addition and half of that comes from Africa. If we organise ourselves and get even 10 per cent of that, we'll be making progress."