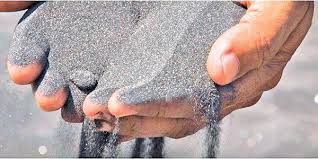 Posted on :Saturday , 4th March 2017
Dar es Salaam — President John Magufuli has reiterated the ban on the exportation of mineral sands, and has directed the minister of Energy and Minerals, Prof Sospeter Muhongo, to ensure the ban is enforced.
President Magufuli said this during the launch of Goodwill Ceramic Limited, a tiles plant based in Mkuranga, as he began his four-day tour of Lindi, Mtwara and Coast regions. He said Tanzania had been losing a lot of revenue by exporting mineral sands. He added that it was high time investors constructed processing plants in the country to purify mineral sands.
"It is only Tanzania, which airlifts the valuable sands abroad. I am directing the minister of Energy and Minerals to ensure the sands aren't airlifted, but should be purified in the country," said Dr Magufuli, when he was inaugurating the $50 million tiles plant.
He added that: "We have a lot of debts, which, had we managed our resources well, we might have settled. I hereby impose a ban on the exportation of mineral sands."
This is not the first time that President Magufuli imposes a ban on the exportation of mineral sands. In August, when he was addressing a rally in Kahama he did the same.
Efforts to reach the Commissioner of Minerals, Mr Ally Samaje, for comment on whether the first ban was implemented, proved futile as he didn't answer the call.
On his way to Lindi President Magufuli addressed several rallies. In Kilwa, he donated Sh20 million, which would be used for the construction of a health centre.
Kilwa North MP Vedasto Ngombale Mwiru (CUF) found himself in hot water after President Magufuli forced him to explain before his people why the Constituent Development Catalyst Fund wasn't used for the construct the health facility.
He called Mr Mwiru to the podium, when addressing a rally in Somanga, after one of the residents complained that the ward had no hospital. "I am glad that your MP is here so that he could explain why he hasn't used the CDCF to construct a hospital. Let him come here and explain to you," the President summoned the MP.
Responding, Mr Mwiru told the President that since he took office he had received over Sh70 million through CDCF. He noted that only Sh3 million was allocated to Somanga, while the remaining amount was allocated to other wards in the constituency. But the didn't agree with what the MP said. "You should judge by yourself. Your MP has failed to donate even Sh100,000, but I am promise to donate Sh20 million," said the President as the crowd cheered him.