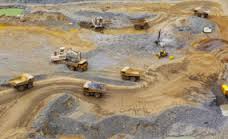 Posted on :Monday , 9th January 2017
Tanzania is blessed with a wide range of minerals which should translate to a big boost to the country's economy and our people's quality of life. The minerals include metals such as gold, iron, silver, copper, platinum, nickel and tin; gemstones such as diamonds, tanzanite, ruby, garnet, emerald, alexandrite and sapphire.
Furthermore, there industrial minerals such as kaolin, phosphate, lime, gypsum, diatomite, bentonite, vermiculite, salt and beach sand; building materials such as stone aggregates and sand; and energy minerals such as coal and uranium.
Despite this abundance, the mining sector contributes less than four per cent to the Tanzania's gross domestic product (GDP). The mining sector is dominated by gold, whose export value was $1.4 billion in the year that ended in October 2016.
That is a proof that most of the minerals are yet to be exploited. According to Tanzania's Development Vision 2025, the mining sector is projected to contribute at least 10 per cent of the country's GDP by that year.
However, there is a change of the exploration landscape trend, with companies shifting from traditional minerals to prospecting for graphite and other new ones especially after the fall of gold prices in the world market.
Graphite, used in the manufacture of car batteries, computer chips and handsets, has a huge economic potential due to the fact that the auto and mobile industries continue to grow.
Tanzania should facilitate investment in the development of the less popular minerals. In exploiting these new mining horizons, we need to look at what happened to gold, tanzanite and diamond so that we don't repeat mistake and ensure their benefits to our economy are more significant.
That is because, there is a feeling that mining performed far below expectation.
In a word, there is a need to widen the scope of mining if the sector is to give a more meaningful boost to Tanzania's fledgling economy.