Media/Press Releases
Medexpo Kenya is back in Nairobi, showcasing the best in medical equipment from around the world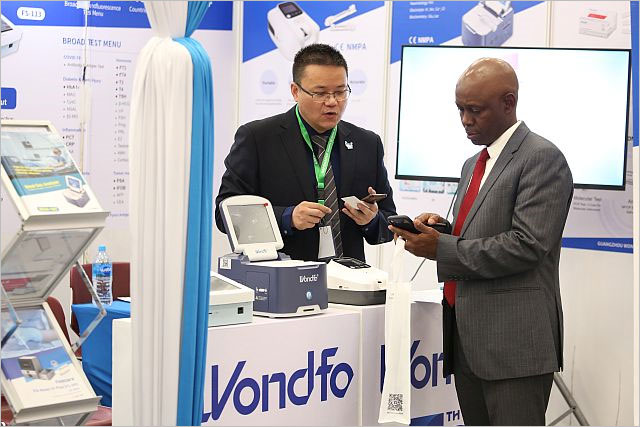 "The 23rd MEDEXPO KENYA 2023" comes back to Nairobi showcasing the widest range of products and equipment for the medical, pharmaceutical and healthcare sector. The trade fair, inaugurated by Dr. Brenda Obondo, Chief Executive Officer, Kenya Medical Association (KMA), will be open from the 21st to the 23rd of June, at the Sarit Expo Center in Nairobi and will be open for visiting from 10:00 AM to 6:00 PM during the exhibition days.

Dr. Brenda Obondo will be accompanied by the Ambassador of Algeria, Hon'ble H.E. Mr. Mahi Boumediene, Ambassador of Iran, Hon'ble H.E. Dr. Jafar Barmaki, High Commissioner of Iran, Hon'ble H.E. Ms. Saqlain Syedah, High Commissioner of Barbados, Hon'ble H.E. Mr. William Alexander McDonald, Ambassador of Belarus, Hon'ble H.E. Mr. Pavel Vziatkin, High Commissioner of Malaysia, Hon'ble H.E. Mr. Ruzaimi Muhamad, Ambassador of Serbia, Hon'ble H.E. Mr. Dragan Zupanjevac, Ambassador of Zimbabwe, Hon'ble H.E. Mrs. Winpeg Moyo, Charge d'Affairs a.i. of Libya, Hon'ble H.E. Mr. Fathalla .A. Aljadey, Charge d'Affairs a.i. of Oman, Hon'ble H.E. Mr. Said Mohammed Al Amri, Ms. Natalie Omokhodion, First Secretary Economic and Trade, The High Commission of Zambia, Ms. Yume Yorita, Second Secretary, The Embassy of Japan, Mr. Hamza Karour, Counselor in Charge of Economy and Trade, The Embassy of Algeria, Mr. Esa Rantanen, Commercial Counsellor - Business Finland, The Embassy of Finland, Dr. Jorg Siedenburg, Regional Medical Officer, The Embassy of Germany, Dr. Serawit Bruck-Landais, Regional Global Health Advisor-Business France, The Embassy of France, Ms. Agathe Roudot, Export Trade Advisor-Business France, The Embassy of France, Mr. Brandon Opondo, Export Trade Advisor - Lifestyle and Healthcare, Tech & Services-Business France, The Embassy of France, Ms. Brenda Kokwaro, Sector Expert Health Kenya | Africa Business Network, Delegation of German Industry and Commerce for Eastern Africa, Ms. Joannah Wanjiku, International Trade Manager, Ministry Of Economy and Industry, Mr. Peter Mutuku Mutua, Head of Service Delivery, Nairobi City County - Office of The Governor, Dr. David G. Kariuki, CEO, Kenya Medical Practitioners and Dentists Council (KMPDC), Mr. Peter Ogeto, IT Officer, Kenya Medical Association (KMA), Dr. Christine Sadia, National Chairperson, Kenya Medical Women's Association (KMWA), Dr. Tim Theuri, Chief Executive Officer, Kenya Healthcare Federation (KHF), Mr. Martin Chege, Information Technology and Communication Officer, Kenya Healthcare Federation (KHF), Ms. Grace Mutia, Head of Finance and Administration, Kenya Healthcare Federation (KHF), Dr. Toseef Din, Chief Executive Officer, M.P. Shah Hospital, Ms. Sheila Esendi, Communication Executive, St John Ambulance Kenya.

Apart from leading Kenyan suppliers, exhibitors from 30 countries including China, Turkey, Pakistan, India, South Korea, United States, Taiwan(ROC), Singapore, Indonesia, Romania, Cyprus, Canada, Belarus, Bangladesh, Egypt, UAE will have products on display. The exhibition is set to showcase Pharmaceutical Products, Medical and Dental Devices, Healthcare Services, Surgical Devices and Equipment, Herbal Veterinary Medicines, Diagnostics Products, Baby Care, Vaccine Refrigeration, Pharmaceutical APIs & FDFs, Autoclaves, Biomaterials, Implants, Orthopaedics, Prosthesis, Surgical Tables, Surgical Lights and more.

Leading companies and brands include names Elbi Ecza Deposu Tic. Ve San. Ltd. Sti., Medisam Insaat Saglik Sistemleri Ltd. Sti., Biodeal Pharmaceuticals Ltd, Weigao Medical International Co., Ltd., Yino Pharma Limited, Holding Belpharmprom, Allengers Medical Systems Limited, Ihit Kenya Limited, Resqpool Medicals Ltd and many more.

The exhibition is supported by Kenyan industry and trade bodies like Kenya Medical Association (KMA), Ministry Of Economy and Industry, Nairobi City County - Office of The Governor, Kenya Healthcare Federation (KHF), Kenya Medical Women's Association (KMWA), Kenya Medical Practitioners and Dentists Council (KMPDC) and The Pharmacists and Dentists Union.

For more information, please contact:

Johnson Mkoka
Media Manager
Medexpo Africa
Email: johnson.m@expogr.com

Jacinth Moses
Public Relations Manager
Email: jacinth.m@expogr.com
Int'l: +971 43050755
21st MEDEXPO AFRICA 2018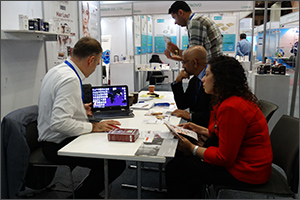 The Healthcare market in East Africa continues to go from strength to strength. This year Expogroup Worlwide returns to East Africa with 3 new editions of Medexpo in three of Africa's fastest growing and most-prosperous economies;

MEDEXPO KENYA: 04th - 06th Sept., 2018 - Kenyatta International Conference Centre, Nairobi, Kenya
MEDEXPO TANZANIA: 25th - 27th Oct., 2018 - Mlimani City Conference Centre, Dar es Salaam, Tanzania
MEDEXPO ETHIOPIA: 15th - 17th Nov., 2018 - Millenium Hall, Addis Ababa, Ethiopia

There continues to be a tremendous demand for medical manufacturing products, equipment, machinery, services, and solutions. The event brings together exhibitors from over 20 nations and the newest and most innovative products in the global industry today. 3500 visitors are expected to be in attendance at the 2018 edition of Medexpo.

Africa is now one of the most sought-after medical technology markets in the world due to the rapid development of the economies in East Africa. Public money is being invested in large sums in private hospitals and laboratories. Investments in the development of medical technologies are also on the rise.

Product portfolios, this year have been designed particularly to meet the demand and the needs of the healthcare market in East Africa today. Exhibitors will cover a wide spectrum ranging from hospital supplies to equipment for pharmacies and dispensaries to medical furniture. Exhibitors from countries such as China, United Kingdom, France and Russia are expected to increase their presence at the 21st edition of the event. The event will also continue to feature key players from the medical community of Kenya and the rest of East Africa.

Kenya's goal of "Vision 2030" aims to oversee the nation's attainment of "middle-class" status by the year 2030. The progression of the Healthcare Sector will be of prime importance in-keeping with the goals of this vision. And with the compounded annual growth rate of the sector at 10.8 percent, this vision is bound to be a reality in the near future.

"Medexpo 2018 will be an effective platform for local and international exhibitors to present their products as the event will attract a wide audience of local trade visitors and decision makers from Kenya and surrounding East African countries like Tanzania and Uganda.", said Max Lewis, CEO Expogroup Worldwide.

MEDEXPO has continuously grown with each edition of the event over its 27 years in the region and is now a key entry-port for companies seeking to do business in the markets of East Africa.
Visit: https://medexpo.expogr.com/ for more information or contact:

Joel D'Silva
Media Manager
Medexpo  ( East Africa )
Email: feedback@expogr.com
Int'l: +971 50 634 1066 | Kenya: +254 792268513
Expogroup Worldwide announces another edition of MEDEXPO AFRICA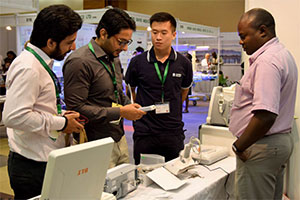 After an overwhelming response in 2016, Expogroup Worldwide announces another edition of MEDEXPO AFRICA, the leading healthcare trade fair in Africa. Taking place from 2 - 4 June, 2017 at the Kenyatta International Convention Centre, Nairobi, Kenya and 22 - 24 August at the Mlimani Conference Centre (MCC), Dar es Salaam, Tanzania, the event brings together more than 5000 healthcare professionals with 400 of the world's leading healthcare suppliers, manufacturers and service providers, all under one roof, to find the latest industry innovations, network and do business.
MEDEXPO AFRICA 2017 is the perfect opportunity to discover first-hand, the best the healthcare industry has to offer, and to expand business associations with personal, one-on-one connections. Meet with global healthcare industry leaders and do business within the region at East Africa's largest B2B networking platform.
There are not many industries that have displayed as much steady growth as the medical sector, and Africa is among the world's most promising markets. Experts believe that its current market volume of around US$ 2.8 billion will rise to US$ 7 billion by 2023, with annual growth rates of over 15 per cent. Companies wanting to benefit from this development will find that MEDEXPO AFRICA – the region's leading international medical trade fair, for the last two decades – is a top platform for accessing this booming market.
MEDEXPO KENYA: 02nd – 04th June – KICC, Nairobi, Kenya
MEDEXPO TANZANIA: 22nd – 24th August – MCC, Dar es Salaam, Tanzania
For more information on these events please visit: https://medexpo.expogr.com/
Strong exhibitor line-up and comprehensive medical products, equipment and machinery showcase at the 20th MEDEXPO AFRICA 2017
The African health care market is booming. With 20th MEDEXPO fair that will take place in Kenya from 16th-18th June 2017 at The Dome. It is oriented to meet the increasing demand for medical manufacturing products, equipment, machinery, services, and solutions. The event profiles exhibitors from over 20 countries, innovative solutions from leading market players for the benefit of medical technology buyers from across the East African region.
Africa is one of the most promising growth markets for medical technology anywhere in the world. The backlog demand is huge and exceeds investments. While public money is being invested predominantly in basic medical services, private hospitals and laboratories is the driving force behind modernizing the sector. They are investing in high-end technology to satisfy the rising demand.
The product portfolio at the MEDEXPO will comprise of innovations from around the world that specifically target the African healthcare market. The exhibitors will present the entire spectrum of products from all relevant sectors: medical technology, hospital, health center and clinic equipment, rehabilitation, equipment for pharmacies and dispensaries, and furniture. Participating countries will include China, Malaysia, United Kingdom, Russia Turkey, France, Ethiopia and many others alongside numerous domestic exhibitors.
According to medical professionals in the region: "It will be the most important and relevant trade exhibition for industry professionals in the medical field to source for products, meet new business contacts, build partnerships, and keep abreast of industry trends and developments.
MEDEXPO's continuous and growing importance to the region and beyond has been demonstrated by the success of exhibitions in the past which continues to attract an increasing number of companies looking to do business in Africa as the region's healthcare sector continues on a robust growth path
For more details visit: www.expogr.com/kenyamed