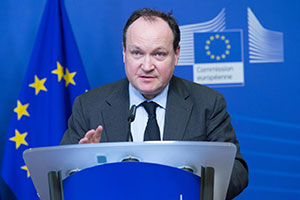 Posted on :Tuesday , 27th November 2018
Four new projects in Kenya and EA will get a great support from "The European Investment Bank (EIB)" through the loan that worth US$78mn.
This will help Kenya and East African region to gain wider support to its companies. The companies that will benefit includes telkom Kenya, the BCS Group, the Medical Credit Fund and Novastar II. It has also been reported that, in order to reduce the risk of currency that has liability to change rapidly for the Bank's counter parts.
The vice president of EIb, Ambroise Fayolle commented "This financing will benefit strategic initiatives by private sector players, who will be the key to propelling the Kenyan and african economy forward."
He also added saying, "our backing will help to provide thousands of people with improved access to quality health care and potentially millions of people with access to data networks, which nowadays is a basic condition for doing business in a connected world."
EIB will support the companies in a great way that will help the companies to grow and develop. Companies like Telkom Kenya Ltd will get US$39mn loan in order to increase its 3G and 4G coverage. It will also help the company to invest in its Fibre-To-The-Building network which will improve services to SMEs and corporate customers.
Whereas, the BcS Group will gain the support of US$18mn loan that will help to develop the fibre optic networks throughout Eastern and Central africa, also including Zambia and Uganda and also the cities in the Democratic Republic of Congo as the broadband access to these areas are limited which will enable a better connectivity service.
On the other hand, The Medical Credit Fund is a wide operator in the region that invests in small healthcare players like clinics, pharmacies, diagnostic centres and hospitals in order to provide quality healthcare in undeserved regions. In this company the the amount invested by EIb is US$5mn.
EIB will also invest US$15mn in the "Novastar II" venture capital fund. This fund will help to develop the early stage business which will grow the demand for basic goods and services with innovative business ideas which will also widen and improve quality and lower cost for the mass low income in the markets of EA as well as the regions of west Africa.