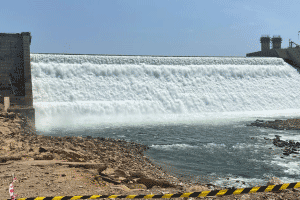 Posted on :Thursday , 20th January 2022
The Ethiopian government has completed preparations for the start of a production test of the Grand Ethiopian Renaissance Dam (GERD). If successful, the first 2 units of the hydropower plant will come on stream.
Addis Ababa is about to take the next step in the construction of the Grand Ethiopian Renaissance Dam (GERD). On the construction site, preparations for a test of electricity production are completed, according to our colleagues of the weekly Capital, citing a source within the Ethiopian government. While this information has not yet been officially confirmed by Addis Ababa, it corroborates recent statements by Sileshi Bekele, the chief negotiator and advisor for transboundary rivers and the Gerd in the Ethiopian Prime Minister's office.
On his Twitter account, the former Ethiopian Minister of Water and Irrigation said that the GERD would deliver its first MW in 5 weeks. Initially, the first 2 power plant units will be commissioned, with an installed capacity of 700 MW. Once fully operational, the dam will have a capacity of 5,250 MW, almost twice the installed capacity of a country like Kenya (2,819 MW).