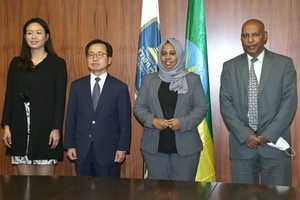 Posted on :Tuesday , 30th March 2021
Ethiopia and South Korea have signed a grant agreement worth 32 million USD, which will assist Ethiopia in achieving its development goals based on the Ten Year Prospective Plan and the SDGs.
Yasmin Wohabrebbi, State Minister of Finance, and Kim Dong Ho, Country Director of the Korea International Cooperation Agency (KOICA), signed the deal.
According to the agreement, KOIKA will provide funding for three projects in Ethiopia over the next five years, totaling 32 million USD.
Rural agricultural value chain improvement is one of the initiatives, which involves connecting small farmers with the Rural Transformation Center.
The deal also includes the implementation of climate adaptation forest and vegetation regeneration, as well as the sponsorship of a watershed conservation master plan for Addis Ababa city cleaning upstream of the Sheger river.
KOICA Country Director Kim Dong Ho said on the occasion that Ethiopia and South Korea have increased economic cooperation and are introducing more than 14 bilateral programs that are highly important to Ethiopia's economy.
"As comparison to our previous grant assistance program results in previous years, the allocation for the three programs is among the largest allotted budgets," he stated.
The Country Director promised that KOICA will continue to help the country's developmental activities in the coming years.