SH80 MILLION POWER PROJECT LAUNCHED IN HOMA BAY
Posted on : Friday , 8th August 2014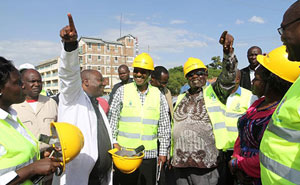 Homa Bay: A power project, which will cost Sh80 million to develop, has been unveiled in Homa Bay county.
The ambitious initiative, being undertaken by Kenya Power, is expected to end frequent power outages in the area.
Dubbed "Boresha Umeme Homa Bay", the initiative will increase electricity supply in the area to six times the current flow.
Kenya Power Managing Director Dr Ben Chumo said the move is part of a countrywide exercise to upgrade power supply systems.
Addressing the press at Homa Bay Power substation, Dr Chumo said the work involves conducting master repairs at existing sub stations and upgrading power lines in an initiative that is expected to also help create alternative sources of power.
Dr Chumo also said the power utility will introduce a power back up system to ensure operations within the county are not paralysed in the event complications affect the flow of electricity.
"This operation will ensure that the system is robust and power supply remains consistent in order to support efforts to minimise power outages occasioned by both planned and unplanned outages," he said.
He said the company has carried out similar exercises in Nairobi, Mombasa, Busia, Meru Thika, Kisumu, Kitui, Busia and Bungoma "with marked service improvements reported".
Homa Bay County governor Cyprian Awiti said the project will help the county realise its industrialisation dream and breathe fresh life into the business sector.
"The county is endowed with numerous resources yet they have not been beneficial to residents due to unreliable power supply," he said.
Awiti said although 80 per cent of Kenya's Lake Victoria is in the county, lack of a fish processing plant had affected the fortunes of fishermen in the county.
He said with a reliable power supply, the county would finally set up such a plant to benefit the fishing community.
Source : www.standardmedia.co.ke