AFENET Agrees To Increase Capability For Regional Medical Education And Research
Posted on : Wednesday , 8th November 2023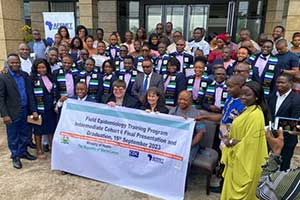 The significance of local medical supply manufacture has been emphasised by the African Field Epidemiology Network (AFENET) in partnership with the Kenya Field Epidemiology and Laboratory Training Programme. This will guarantee stockpile readiness in the event of a pandemic.

Dr. Sultani Matendechero, Deputy Director General, Ministry of Health, Kenya, stated at a scientific conference titled "Strengthening Public Health Systems in Africa towards Enhanced Global Health Security: The Role of Field Epidemiology and Laboratory Training Programme" that the region as a whole needs to search for medical countermeasures so that nations can respond to pandemics or other public health emergencies.

According to Matendechero, AFENET is funding regional logistics centres for a number of nations. He also stated that AFENET is pushing nations to establish co-capacities, which would allow them to invest in preparedness stocks that would allow them to react in the event of an emergency.

Vaccines, medications, test kits and other items like oxygen and medical equipment are among them.

In order to take advantage of economies of scale and be able to produce adequate stocks of vaccines and other products when needed, not just for pandemics alone but also for other public health issues, he said they are also looking at being able to produce more reasonably priced countermeasures in the future.

This is consistent with one of the primary tenets of the Africa Centres for Disease Control (CDC), where local manufacturing is one of their strategies. Our goal is to increase regional capacity for domestic manufacturing. And because of some vaccine nationalism, we as a region were unable to obtain vaccines in a timely manner during the Covid-19 pandemic, which served as inspiration for this one, he added.

He stated that AFENET is investigating ways to manufacture vaccines locally and affordably at the national and regional levels in order to close the gaps.

In order to use science to obtain information for planning and decision-making, he pointed out that there is a need to improve disease surveillance as well as research and data management.

AFENET Professor Earnest Kenu, the board chair, stated that experts work hard to develop their capacity in order to recognise the medical problems brought on by disease detection and to act quickly.

He stated that AFENET is involved in outbreak detection, response, and disease surveillance. He also mentioned that the organisation helps member states contain outbreaks in addition to being at the forefront.