Carrier Commercial Refrigeration and GIZ will establish the first-ever training centre in East Africa to advance cold chain development and decarbonisation.
Posted on : Tuesday , 7th November 2023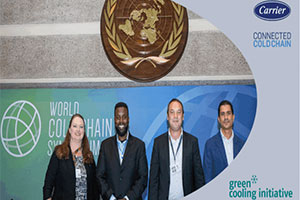 In order to establish the first carbon dioxide (CO2) transcitical regional supermarket training centre in East Africa, Carrier Commercial Refrigeration, a leading provider of high-efficiency refrigeration systems and services to the food retail and cold storage industries, is working with the Deutsche Gesellschaft für Internationale Zusammenarbeit (GIZ) GmbH's Green Cooling Initiative, which is funded by the International Climate Initiative (IKI) of the German Federal Ministry for the Environment, Nature Conservation, Nuclear Safety and Consumer Protection (BMUV).
This backs up Carrier Commercial Refrigeration's goal of extending the cold chain, which can enhance health outcomes and lower carbon emissions, hunger and food insecurity. Carrier Global Corporation (NYSE: CARR), an expert in intelligent climate and energy solutions worldwide, includes Carrier Commercial Refrigeration. The Federal Republic of Germany's government owns GIZ, which offers services globally in the areas of international cooperation for sustainable development and international education.
A contract was struck between Carrier Commercial Refrigeration and GIZ to open a CO2 transcritical regional supermarket training centre in Nairobi, Kenya and to provide online and in-person training for African technicians and trainers in Germany and Kenya. The centre will act as a focal point for cold chain solution creation, instruction and industry advancement. On October 21, in Nairobi, there was a signing ceremony at the World Cold Chain Symposium.
Marcus Eisenhuth, vice president and general manager of Carrier Commercial Refrigeration, said, "We at Carrier Commercial Refrigeration are proud to be an industry leader in commercial refrigeration solutions and we are pleased to partner with GIZ to further decarbonize around the globe." "With the use of cutting edge CO2 technology, this centre will offer thorough training, giving professionals the essential skills they need to optimise their cold chain operations."
Leading provider of high-efficiency heating, cooling and refrigeration systems and services for the industrial sector is Carrier Commercial Refrigeration. Carrier Commercial Refrigeration is a world leader in technological breakthroughs and has pioneered the use of CO2 refrigeration, with over 20,000 units in service.
According to Philipp Denzinger, project manager for GIZ Proklima, "establishing the first regional CO2 transcritical supermarket training centre in Kenya and providing trainings in cooperation with the local Kenyan partners and Carrier, is an important cornerstone towards the promotion of Green Cooling in Africa and for preparing for the implementation of the Kigali Amendment and the Paris Agreement."
Such creative project demonstrates Carrier's continued dedication to advancing sustainable and effective cooling solutions in developing nations. Carrier Transicold agreed to develop a cold chain centre in Kigali, Rwanda and a state-of-the-art transport training centre in Accra, Ghana in 2022. In August, the company signed a contract with the Telangana State Trade Promotion Corporation to further cold chain development and training in India.
These partnerships support Carrier's 2030 Environmental, Social and Governance (ESG) objectives, which include reducing carbon emissions from its customers by more than a gigaton and improving communities by reducing food waste and hunger.