Sh500 Million Industrial Park to Be Built In Nyeri, Kenya
Posted on : Friday , 3rd November 2023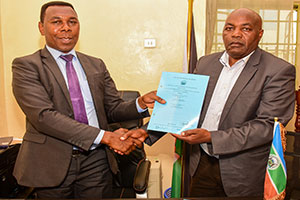 An agreement has been signed by the County Government of Nyeri and a local contractor for the building of an aggregate and industrial park in the Kieni constituency, valued at Sh500 million.
In the next 24 months, the park a collaborative effort between the national and county governments will be operational, according to Chief Officer in Charge of Trade George Mwangi. Each of the two tiers of government would put in Sh250 million for the project.
Situated on 30 acres of land in Naro Moru, the multi-million dollar complex will provide Agriculture Mechanization Services. According to Mwangi, the park's primary goals are to draw in investors for the agro-processing sector and provide both skilled and unskilled jobs for the local population.
According to him, the park would focus on offering sorting, warehousing, and value-added services for local farmers and other agricultural producers. A few of the important sub sectors that have been designated are the value chains for coffee, avocados, dairy, and potatoes. The park will have logistics zones, warehouses, cooling facilities, aggregation centers for various agricultural goods, and a sophisticated road network linking the industrial park.
Produce will be preserved for longer and be sold for more money thanks to the park's gathering, sorting, and value-adding processes. He stated, "We have opened up shop based on the raw materials we will be dealing with as an invitation to other stakeholders to come and invest."
Mwangi pointed out that the department was eager to promote inter-county trade, which is why the park was built close to the Nyeri-Isiolo route and the Chaka Railway Station. Mwangi added that plans were in place to take advantage of the export market for some horticulture items, including coffee, which are known to sell for higher prices abroad.
The Lappset Corridor's close proximity to the site made it a viable choice. With roads and railroads offering sufficient infrastructure and connection, the corridor advances in a tripartite LPG. "We hope to be working with other counties to not only boost trade but also see which other value chains we can add," Mwangi stated.
Source : www.kenyanews.go.ke