$3.24 Billion to be Invested in Tanzania SGR Construction by Spain
Posted on : Friday , 29th September 2023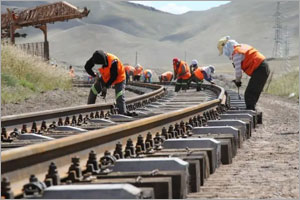 Tanzania SGR project foresaw another major step as country of Spain via Export Credit Agency has shown interest in the funding of of the Standard Gauge Railway (SGR) construction project by issuing loans, loans guarantees and insurance to the companies of the country that will be given the contract of establishing the railway which will run from Makutupora to Mwanza and from Tabora-Morogoro all the way to Malagarasi. This decision made by the country has been reached as a result of the importance portrayed by the project in development of the country.
This pledge that was made in the city of Madrid in Spain by the Secretary of State who is in charge of Commerce, Ms Xiana Mendez with the Finance Minister of Tanzania Dr. Mwigulu Nchemba. Ms. Mendez stated that Spain was very aware on the significance of the project to Tanzania and to Spain as well and further stated that the completion of the project would lead to a rise in the value chain investment and trade and thus become a business hub in the region o Africa. The implementation of this Tanzania SGR project as proved to be very critical in spearheading development in Tanzania as a country.
Tanzania SGR Project Contractors and Cost
Dr. Nchemba also stated that the contractor of the Tanzania SGR project has searched for a total of 12 contractor Spanish companies who will be responsible for supplying the equipment that will be utilized in the construction of the project and urged the Secretary State of her government to come to Tanzania to be participants in establishing the project. The Tanzania Standard Gauge Railway (SGR) project requires over $3.24 billion to finish the construction works for the third and fourth phases that run all the way from Makutupora to Mwanza.
Additionally, Dr. Nchemba got to thank Spain or being very instrumental in the financing of quite a number of projects in the country which include the Rural Electricity Project, transport, agriculture, and the development agency via its Development fund ( FONPRODE) which expressed its interests in financing the Msimbazi River Basin Development Project situated in Dar es Salaam.
Source : www.constructionreviewonline.com