Kenya Announces Green Hydrogen Roadmap and Strategy with Support from EU and Global Gateway
Posted on : Wednesday , 13th September 2023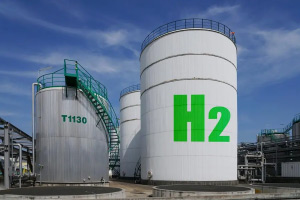 At the inaugural African Climate Summit in Nairobi, President of the European Commission Ursula von der Leyen and President of Kenya William Ruto unveiled the Green Hydrogen Strategy and Roadmap for Kenya, in collaboration with Global Gateway, Europe's investment initiative for global sustainability.
The comprehensive roadmap, developed with expertise from the European Union, outlines Kenya's ambitions for the green hydrogen sector from 2023 to 2032 and beyond. It highlights domestic market development, exports, emission reduction goals, job creation, and direct investments.
Under the Global Gateway initiative, the EU will provide nearly €12 million in grants to stimulate public and private investments in Kenya's green hydrogen industry. Global Gateway aims to invest €3.4 billion in climate and nature projects in Kenya, ranging from renewable energy development to sustainable agriculture and climate resilience.
President Ursula von der Leyen praised Kenya's commitment to clean energy, citing its target of achieving 100% renewable energy by 2030. The Green Hydrogen Roadmap aims to support Kenya in reaching this goal by reducing emissions, fostering strategic industries, and enhancing export capabilities.
President William Ruto pointed out that the strategy prioritizes economic growth, job creation, environmental stewardship, and energy transition. It also anticipates the expansion of green production for key agricultural sectors such as tea, coffee, horticulture, floriculture, and grains. Additionally, green hydrogen will facilitate decarbonisation of industries and contribute to Kenya's economic development.
The Green Hydrogen Strategy aligns with Kenya's updated Nationally Determined Contribution (NDC), which aims to reduce greenhouse gas emissions by a 3rd by 2030. With over 90% of its electricity sourced from renewables, Kenya has been a pioneer in green energy transition.
This roadmap is expected to provide certainty to investors and set clear targets for the growth of the green hydrogen industry. By replacing hydrogen commodity imports with domestically produced green alternatives, Kenya aims to drive industrialization, mitigate supply risks, and reduce market price volatility.
Global Gateway, a significant climate investment effort by Team Europe, aims to support Africa's inclusive, green, and digital transformation. In Kenya, Global Gateway focuses on the green economy, digital economy, and green mobility. It includes projects like the Nairobi Clean Bus Rapid Transit Line 3, which will establish East Africa's first dedicated electric bus line with an investment of up to €350 million.
The European Investment Bank expressed its support for Kenya's green hydrogen roadmap and its commitment to strengthen technical and financial cooperation to fully harness Kenya's renewable energy potential for green hydrogen production.
As the world prepares for the 1st Global Stocktake of climate progress since the 2015 Paris Agreement, this announcement signifies Kenya's determination to address climate change and promote sustainable development.
Ursula von der Leyen, President of the European Commission, said, "Kenya's ambitious target of 100% clean energy by 2030 is an inspiration for other countries. The Roadmap on Green Hydrogen will support Kenya towards that goal. It will help cut emissions, support a strategic industry for the country's future and boost its export capacity towards partners like the EU."
William Ruto, President of Kenya, stated, "The Green Hydrogen strategy prioritizes economic expansion, generation of job opportunities, and the promotion of environmental stewardship and charts a course for Kenya to harness the potential of green hydrogen as a key driver of energy transition. Green hydrogen economy will enhance food security, including the expansion of green production of Kenyan tea, coffee, horticulture, floriculture, and grains."
Jutta Urpilainen, Commissioner for International Partnerships, said, "Green hydrogen is the energy of the future. Africa has great potential to become the leading continent in the development of this green energy source. Our support to Kenya's green transition is part of Global Gateway, a positive and sustainable investment strategy, which will mobilize €150 billion for Africa."
Dr Baerbel Kofler, Parliamentary State Secretary to the German Federal Minister for Economic Cooperation and Development, stated, "Green hydrogen is a building block within our Climate and Development Partnership. Germany will support this promising project with a loan of €60 million. As an additional highlight, we will soon open a Hydrogen Diplomacy Office in Nairobi to intensify our dialogue and collaboration."