The National Cooling Action Plan has been Implemented in Kenya
Posted on : Wednesday , 13th September 2023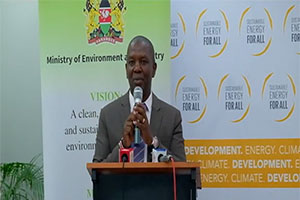 The National Cooling Action Plan for Kenya (NCAP), consisting of a review of the Kenyan regulatory framework, an evaluation of the nation's cooling sector, as well as a short- and medium-term action plan was formally launched on June 14, 2023 by Kenya's Ministry of Environment, Climate Change and Forestry.
According to Kenya's Nationally Determined Contributions (NDC), the nation has committed to reducing its emissions of greenhouse gases by 32% or 143 Mt CO2 eq, by 2030, in comparison to the normal operations situation. Only 12.8% of Kenyan households currently have a refrigerator, considering the fact that 15% of homes and 30% of businesses have air conditioning. However, it is anticipated that when the national grid is expanded, the economy grows, and average temperatures rise, there will be more demand for cooling. The RAC sector's resulting greenhouse gas emissions are predicted to reach 4.75 Mt CO2 eq in 2030.
As part of the Kenya Vision 2030 strategy, the government is dedicated to achieving nutrition security, cost-effective housing, manufacturing growth and accessible healthcare for all. The preservation of vaccines and medical supplies through refrigeration, as well as the use of inexpensive and environmentally friendly cooling equipment are all important components of these development ambitions.
The following principal areas are the primary focus of Kenya's National Cooling Action Plan:
* Improving the effectiveness as well as efficiency of energy-intensive cooling devices.
* Converting the cooling industry to environmentally friendly refrigerants.
* Expanding access to environmentally friendly, energy-efficient cooling options.
* To support a resilient agriculture industry and prevent food waste, improving access to agricultural cold chains.
Kenya is committed to reducing the amount of energy used by cooling equipment and this commitment is supported by a number of governmental laws and regulations. For example, mandatory minimum energy performance standards (MEPS) for air conditioners and home refrigerators were implemented in 2019 and 2020.