Kenya Seeks a $150 Million AfDB Loan for Power
Posted on : Tuesday , 5th September 2023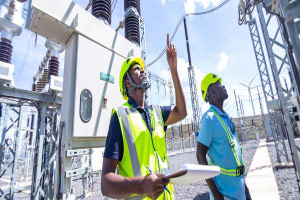 Kenya is seeking a Ksh21.66 billion ($150 million) loan from the African Development Bank (AfDB) to connect homes to electricity under the 3rd phase of the Last Mile Connectivity project.
The AfDB disclosed that the Treasury has applied for the $150 million in a review of the programme to be rolled out before the end of this year to light up an estimated 150,000 homes in 45 counties that exclude Nairobi and Mombasa.
Kenya Power started the Last Mile Connectivity initiative in year 2015 to link homes near transformers to electricity at subsidised rates in the race to ensure universal electricity coverage.
The programme will rise Kenya Power's customers past the nine million mark despite questions over the revenues from homes connected to electricity under the Last Mile plan.
"The Government of the Republic of Kenya is seeking the financial support of $150 million from the Africa Development Bank for the Last Mile Connectivity Project -III," says AfDB in the disclosures.
The AfDB says some 1,316 new transformers will be purchased, extending the high voltage line by 650 km and 6,798 km for the low voltage network through this funding.
The funding, if approved, will be in addition to the Ksh26.76 billion ($185.25 million) that Kenya Power has so far received from three multilateral lenders meant to connect 280,473 households across 32 counties to power.
The power distributor received a loan of Ksh13.38 billion ($93 million) from the French Development Agency, a grant of Ksh4.46billion ($31 million) from the European Union and another loan from the European Investment Bank of Ksh8.92 billion ($62 million) in May.
The third phase of the Last Mile programme is set to start in November and will take an estimated five years to complete, according to the AfDB.
Under the programme, the government jointly with the development partners shoulder part of the connection costs for the homes, helping reduce the amount that households pay.
Homes paid an average of Ksh35,000 ($242) for connection at the start of the project, which was later reduced to an average of Ksh15,000 ($103).
The AfDB simulations show that the average cost of customer connection for the project will be Ksh72,000 ($498) under the third phase.
The Last Mile Connectivity program has helped Kenya increase electricity coverage from 2.3 million connections in 2013 to nine million at the end of last year, an electricity access rate of more than 70%.