Iran's Raisi Travels to Africa and Signs Up Agreements With Kenya
Posted on : Tuesday , 15th August 2023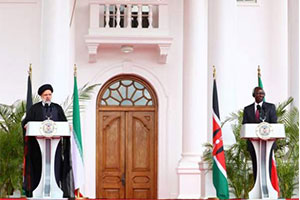 Iran has recently increased its diplomatic outreach to underdeveloped nations, first travelling to Latin America and now to Africa.
As part of a three-nation tour to Africa that Tehran has hailed as a "new beginning" in relations with the continent, Iran's President Ebrahim Raisi was given a red carpet welcome by his Kenyan counterpart William Ruto on Wednesday.
The first journey to Africa by an Iranian president in more than a decade, which includes stops in Zimbabwe and Uganda, is being made by Raisi in an effort to diversify economic relationships in the face of severe US sanctions.
According to Kenya's foreign ministry, the trip, which was scheduled to start on Tuesday, was postponed by one day in order to conclude the memorandums of agreement that Raisi and Ruto were to sign.
The governments of Iran and Kenya announced the signing of five memorandums of understanding on Wednesday pertaining to information technology, fisheries, animal products and investment development.
After visiting Ruto, Raisi stated he intended to strengthen business connections with African nations and had earlier referred to Africa as a "continent of opportunities" in a news conference.
"None of us are satisfied with the current volume of trade and the current economic exchange between countries," he declared.
Without offering a comparison figure for 2022, Iran's foreign ministry stated on Saturday that it anticipates commerce with African nations to rise to more than $2 billion this year.
The president of Kenya claimed he had asked Raisi for his support in facilitating the shipment of more tea, meat, and other agricultural products from Kenya to Iran and, via Iran, to countries in Central Asia.
Following the cancellation of the nuclear agreement and the reinstatement of sanctions by then-US President Donald Trump in 2018, Iran increased its diplomatic outreach to developing world nations. Raisi travelled to Venezuela, Cuba, and Nicaragua in June to bolster support among friends who were also subject to US sanctions.
After visiting Zimbabwe, Raisi is anticipated to travel to Uganda to speak with President Yoweri Museveni on commerce and bilateral ties.