JAT Holdings PLC has expanded Its presence in african markets
Posted on : Monday , 31st July 2023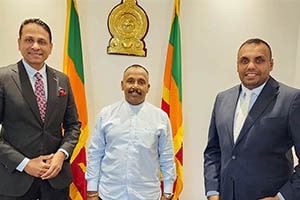 JAT Holdings PLC, a Leader in the Wood Coating Market in Sri Lanka, Bangladesh, and the Maldives, Enters the African Market in July 2023 by Establishing "JAT Paints Africa Limited" in Kenya Through a Joint Venture With Mayleen Corp, a Diversified Business House With Headquarters in Kenya. Following Its Incredible Achievement in South Asia, This Strategic Step Will Be Expected to Strengthen Jat's Position as a Leader in Wood Coatings Across Africa.
By Launching JAT Paints Africa Limited in Kenya, JAT Holdings Plc is Fulfilling Its Commitments to Investors and Demonstrating Its Dedication to Expanding Its Footprint in the East African Region and Emerging a Leader in Wood Coatings in Africa. With the Assistance of This Collaboration, JAT Holdings Will Be Able to Manufacture and Distribute Sayerlack Wood Coatings and Other JAT Commodities in Major Markets Throughout Kenya and East Africa. "It Gives Me Great Pride to Announce the Successful Incorporation of This Joint Venture With a Partner Who Shares Our Vision for the Wood Coatings Industry," Said Aelian Gunawardena, Founder and Managing Director of JAT Holdings PLC.
We Hope to Transform the Market and Create an Indelible Mark in Kenya and East Africa by Demonstrating Our Broad Spectrum of Expertise and Commitment to Innovation, Sustainability, Providing Comprehensive Solutions, and Customer Satisfaction. We Accomplished an Enormous Turning Point With This Strategic Partnership With Mayleen Corp, and We Are Prepared to Raise the Bar on Excellence as a Team. Additionally, This Relationship Corresponds With Our Aim of Expanding the Operations of Our Business Abroad in Order to Contribute to Sri Lanka's Recovery From Recession and Encourage the Export Industry. During This Visit, the Endorsement of Jat's Wood Coatings Among Significant Furniture Manufacturers in Nairobi, Gabon, and Lagos Surpassed Expectations and Was Positive. The Diversified Business Group Mayleen Corp., With Operations Across Multiple Sectors, is Based in Kenya and is a Rapidly Expanding Company. Since the Inception of the Group's Operations in 2005, the Company Has Experienced an Amazing Transformation From an Economic Organisation Into a Booming and Prestigious Brand Known for Its Impeccable Relationships With Businesses.
Source : www.dailynews.lk