Ethiopia is Projected to Witness an Upswing in Demand for the Timber Industry Over the Next 20 Years.
Posted on : Thursday , 29th June 2023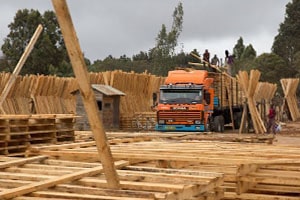 The Production and Trade of Wood and Wood Products, Which Are Used for an Assortment of Tasks Like Construction, Furniture, Paper, Fuel, and More, is Referred to as the Timber Business. Ethiopia's Timber Business Has Importance Due to Its Economic Impact, the Millions of People It Supports and Promotes, Maintains and Its Support of the Nation's Green Growth and Forest Restoration Initiatives. Over the Next 20 Years, Demand for Wood and Wood Products Will Be Increasing by 27%, Providing a Chance to Grow the Country's Timber Industry.
Ethiopia Has the Capacity to Increase Its Timber Productivity by Introducing New Species of Trees on Degraded Land and in Its Existing Forests, Plantations, and Agroforestry Systems. Under the Afr100 Programme, the Government Promised to Rehabilitate 15 Million Hectares of Land by 2030, and as Part of the Green Legacy Campaign, 9 Billion Trees Have Been Planted Since 2019. These Efforts Could Increase the Accessibility of Timber and Other Forest Products While Also Having Positive Effects on Society and the Environment.
However, to Create a Sustainable and Successful Timber Industry in Ethiopia, There Are Further Challenges and Constraints That Must Be Overcome. Among These Are the Following: Inadequate Institutional and Regulatory Support, Weak Value Chain Relationships, Low Productivity of Timber-based Goods, Illicit Logging and Deforestation, and Effects of Climate Change. The Production, Processing, and Marketing of Timber and Wood Products in Ethiopia Can Be Enhanced Through Investing in the Forest Sector as Well as Encouraging Standard Procedures and Innovations. This Could Increase Rural Communities' Earnings and Employment, Alleviate Poverty and Inequality, and Help the Country Reach Its Goal of Establishing a Middle-class Green Economy by 2025.