Kenya and South Korea Seal Partnership to Build Five Smart Cities
Posted on : Thursday , 29th June 2023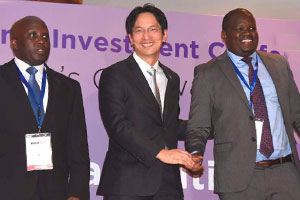 Korea Trade Centre, Nairobi (KOTRA), the Commercial Section of the Embassy of the Republic of Korea, and the Kenyan Government through the Ministry of ICT and the Digital Economy have signed a memorandum of understanding (MoU) to foster and promote partnerships and investments in the development of smart cities in the country.
To get things started, the MoU calls for the two countries to construct 5,000 affordable houses. The houses will be constructed in the Mavoko, Machakos, and Tatu City Special Economic Zone. This MoU holds significance because it establishes a plan for Kenya's construction of 5 digital cities in Lamu, Dongo Kundu, Athi River, Sagana, and Naivasha.
The agreement, which also included signatories Kumkang East Africa Limited, EPCO Builders, and Unity Homes, covered public infrastructure, transportation/logistics, renewable energy, and residential development. Thus, it will enable the development of an innovative transport system (smart mobility). Electric and driverless vehicles, ride-sharing services, and vehicle-to-infrastructure connectivity using ultrasonic, radar, and cameras are all included in "smart mobility."
As part of the forward-thinking transport network, Driver licences will have a chip holding the owner's bio-data as well as a unique number. As a result, the National Transport and Safety Authority (NTSA) will be able to trace drivers' histories.
Importantly, both technologies are essential for the next generation, which explains why Kenya seeks to improve Konza smart city's urban offers. As a centrepiece smart city project of the Vision 2030 programme, which promises to revolutionise Kenya, Konza has received clearance. The project will industrialise the nation in a new way. By 2030, the middle-income nation also wants to offer all of its residents a high standard of living.
Source : www.constructionreviewonline.com