Woodworking is a crucial sector for Kenya's economic development
Posted on : Wednesday , 7th June 2023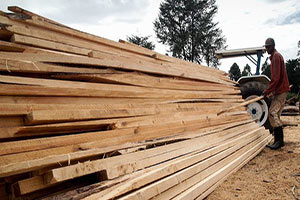 Woodworking industry in Kenya is a vital sector that contributes to the country's economic development and social welfare. Woodworking involves the processing of wood and wood products into various forms of furniture, construction materials, handicrafts, and other items.
The industry in Kenya has witnessed remarkable growth and development over the years. With a rich history of traditional craftsmanship and an abundance of natural resources, Kenya's woodworking sector has become a significant contributor to the country's economy. This essay explores the growth, challenges, and potential of the woodworking industry in Kenya.
This sector has experienced substantial growth due to several factors. First, the country boasts an abundance of high-quality timber, such as mahogany, cedar, and teak, which are sought after both domestically and internationally. This availability of resources has attracted investments and fostered the growth of woodworking enterprises. Second, the skilled craftsmanship and artistic traditions of the Kenyan people have helped establish a reputation for exquisite woodwork, attracting buyers and tourists alike. The industry contributes to employment generation, income generation, and export revenue, thereby enhancing economic growth.
There is an immense potential for further growth and development in the woodworking industry in Kenya. There is an opportunity for technological advancements and investments in modern machinery to improve productivity and efficiency. Collaboration between the government, private sector, and international partners can facilitate the transfer of knowledge, skills, and technologies to enhance the industry's competitiveness. Moreover, promoting sustainable practices, such as reforestation and responsible sourcing of timber, can ensure the long-term viability of the sector.
Kenya has a great potential to grow and prosper if it adopts sustainable practices that balance the economic, social, and environmental aspects of wood utilization. By doing so, woodworking industry in Kenya can contribute to the country's vision of becoming a middle-income economy by 2030.