Tanzania's Economic Growth to Rely Strongly On Construction Activities in 2023 & 2024
Posted on : Wednesday , 7th June 2023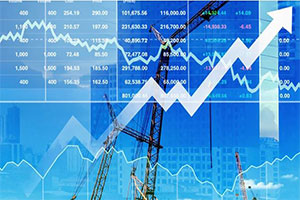 According to recent research by experts, Tanzania's real GDP growth would increase to 5.7% in 2023, up from a projected 5.4% in 2022. According to the Tanzania National Bureau of Statistics' most recent GDP figures, growth in Q322 was 5.2% year on year, up from 4.8% in Q222. The transport and storage industry (which contributed 14.2% to economic growth), agriculture, and mining were key growth drivers.
Private-sector investment and a robust infrastructure pipeline will drive economic growth
In 2023, foreign-financed infrastructure projects will drive fixed investment growth. Although the government is projected to follow a more conservative budgetary strategy, especially in comparison to the increased capital spending necessary to cushion the economy during the Covid-19 outbreak, foreign investment and the restart of postponed projects will keep infrastructure activity strong. The transport sector is driving growth in Tanzania's building industry. According to the Key Projects Database, road, rail, port, and airport improvements totaling almost USD31 billion are in different phases of planning and active construction. In addition, in April 2023, the government signed joint venture agreements with three Australian firms, Evolution Energy Minerals, Eco Graf Ltd, and Peak Rare Earths Ltd, for mineral extraction, processing, and transportation, including the establishment of the country's first large-scale graphite mine. This is consistent with the government's goal of increasing the mining sector's contribution to GDP to 10% by 2025; mining and quarrying accounted for 7.8% of GDP in 2021.
Growth in 2023 Will Be Driven by Fixed Investment
Furthermore, measures to strengthen Tanzania's economic climate will spur private-sector investment. According to the most recent Tanzania Investment Centre (TIC) data, the value of investment projects recorded between February and April 2023 climbed by 199% to USD1.5 billion, up from USD504 million the previous year. The present administration's streamlining of licence and permission processes, automation of the compliance process, and simplicity of the land purchase process, according to the TIC's executive director, is responsible for the uptick. To reflect this context, fixed investment is expected to contribute 8.3 percentage points (pp) to real GDP growth in 2023, above the 2013-2022 average of 6.7pp.
Net trade will assist economic growth in 2023 as mining production accelerates and service exports soar
According to mining research experts. Gold production will increase by 2.4% in 2023, up from 1.8% in 2022, as Tanzania's mining sector draws more investment and financial market instability drives up gold prices, incentivizing increased output. Furthermore, investments in Tanzania's port capacity would facilitate a bigger amount of transit exports from East African neighbours such as Rwanda, Burundi, the Democratic Republic of the Congo, and Uganda. Tonnage through the Port of Dar es Salaam is expected to increase by 8.8% to 24.2 million tonnes in 2023, up from 22.2 million tonnes in 2022. On the other hand, the positive impact of healthy export growth will be mitigated in the coming quarters by high demand for capital goods as a result of strong building activity.
It is anticipated that GDP growth will ease to 5.4% in 2024. The output of gold for export will be 1.7%, and Tanzania's more business-friendly climate will attract more investment. As a result, it is predicted that growth would continue much higher than the Sub-Saharan Africa GDP-weighted average of 4.0%.
Source : www.fitchsolutions.com