Upgrading the Kenya-Taiwan Economic Relationship
Posted on : Thursday , 27th April 2023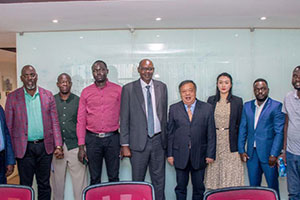 We are excited to discuss the most recent developments in the trade and investment sectors. Mr. Richard Ngatia, President of the Chamber, met with His Excellency Ambassador Chenhwa Lou, Taiwan Representative in the Republic of Somaliland, also connected with Kenya, to discuss trade and investment potential.
During the meeting, the Chamber President emphasized the need to increase trade and investment connections between Kenya and Taiwan. He emphasized that Kenya is an appealing foreign investment destination and that Taiwanese businesses can gain tremendously from the country's strategic location, competent people, and plentiful natural resources.
On the other hand, Ambassador Chenhwa Lou expressed his country's interest in pursuing commercial potential in Kenya. Taiwan, he said, has competence in a variety of industries, including healthcare, technology, manufacturing, value addition, and e-mobility, and he wants to share this knowledge with Kenyan enterprises.
Both parties committed to working much more to promote bilateral commerce and investment. Technology transfer, joint ventures, scholarships, and capacity building were identified as significant areas of cooperation.
As the KNCCI, we believe that this collaboration provides an excellent opportunity for our members and the broader business community to grow their operations and explore new markets. KNCCI and Taiwan Trade Centre will renew their existing Memorandum of Understanding to further investigate areas of trade expansion and investment attraction.
The discussion followed a networking dinner provided by the Ambassador for KNCCI Members and chaired by Chamber 1st Vice President Dr. Erick Rutto to discuss existing opportunities between Kenya and the Taiwan market.
Source : www.kenyachamber.or.ke