The Ministry of Water and Sanitation Plans to Provide Samburu County Sh 500 Million for Water Development
Posted on : Thursday , 27th April 2023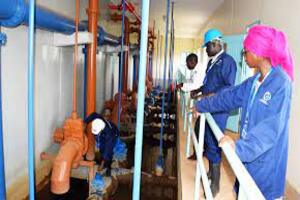 The National Government Plans to Set Aside at Least Sh 500 Million via the Ministry of Water and Sanitation for Water-related Initiatives in Samburu County. The Initiatives Are Intended to Cope With the County's Persistent Shortage of This Essential Resource. Dr. Paul Rono, the County Government's Principal Secretary for Water and Sanitation, Had Approved an Agreement to Identify the Most Significant Initiatives in the County's Arid Region Where Funds Could Be Deployed. Lati Lelelit, the Governor of Samburu County, Believes This.
The County and the Federal Government Signed a Memorandum of Understanding (Mou). The Signing, According to the Governor, Was Conducted to Establish and Prioritise Funds for Significant Initiatives. Prior to the the Distribution of the Remaining Equivalent Amount, at Least Sh250 Million Had Been Released in the Current Fiscal Year. The Archers Post Project Received a Grant of Sh 100 Million, as Part of the Wamba Water Extension Project. Furthermore, the Suguta Project Obtained an Additional Sh100 Million. Sh 50 Million Was Assigned to Each of the Maralal, Lpartuk, and Kisima Projects. Sh 100 Million Has Been Allocated to the Baragoi Water Project.
Water Project Funding and Estimated Completion Dates in Samburu County, He Additionally Said That They Will Be Accomplished After Being Incorporated Into the Budget for the Fiscal Year That Follows. Water and Sanitation Ps Dr. Paul Rono Notified Maralal Locals That the First Phase of the Sh 1.4 Billion Yamo Dam Had Been Accomplished While Concluding a Water Project at Lodokejek Primary School. According to the Ps, Yamo is the County's Largest Project. The Second Phase Consists of the Erection of a Sewage and Water Treatment Facility. The Project Will Cost an Additional Sh1.5 Billion and Will Be Included in the Budget for the Upcoming Fiscal Year. He Said That the Dam Can Provide Maralal Town With 6,000 Cubic Metres of Water Each Day. If the Town is Fully Functional, It Consumes Considerably More Than 8,000 Cubic Metres of Water Per Day. Other Ongoing Projects in Samburu County Involve the Garma Water Project in Samburu Central and the Lkutuk Ee Lmuget and South Horr Water Projects in Samburu North.
Source : www.constructionreviewonline.com