Making the Agriculture Sector Greener in Tanzania
Posted on : Wednesday , 26th April 2023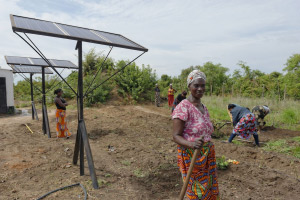 Tanzania's horticultural sector presents significant opportunities for youth to earn lucrative incomes. However, the use of gasoline or diesel-powered irrigation pumps has negative environmental effects and is an expensive solution.
To mitigate climate change and increase agricultural productivity, the Tanzania Renewable Energy Association (TAREA) partnered with the Dutch Embassy and the Climate Response Facility (CERF) to implement the Climate Smart Agriculture Learning Event from February 27 to March 3. The initiative aimed to promote solar irrigation and targeted government officials from various Ministries and the National Irrigation Commission.
The team visited Jitume Group's 26-acre solar irrigation scheme in Lupembe Lwasenga on February 27. The Group previously used diesel pumps, costing TZS 70,000 per day, but switched to solar PV irrigation through the support of the ELICO Foundation. The farm grows maize, tomatoes, beans, green peas, and onions.
On February 28, the participants visited Kibidula Farm, owned by the 7th Day Church, which has a 200-hectare irrigated area of the 1,000 hectares total. The farm grows avocados for export and local markets and relies on solar photovoltaic electricity for 95% of its irrigation needs. The irrigation system comprises a solar PV generator of 78kWp and 2 pumps with a capacity of 25kW.