The EU provides $378 million to Kenya to power its electric BRTs
Posted on : Tuesday , 25th April 2023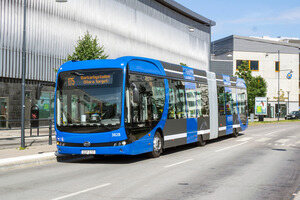 The European Union has provided Kenya with Ksh 50 billion ($378 million) to help with the electrification of the country's public transport infrastructure. The funding will allow Kenya to construct the infrastructure needed to improve the efficiency and cost-effectiveness of its bus rapid transit system.
This development is the consequence of a recent meeting that took place at the European Union headquarters in Brussels, Belgium, between William Ruto, the president of Kenya, and Ursula von de Leyen, the president of the European Commission.
As part of the deal, Kenya's forthcoming Green Mobility-Nairobi core bus rapid transit line 3 (BRT 3) will include zero-emission electric buses and intelligent transportation system elements.
Kenya declared in February 2022 that it will solely run electric buses on the BRT system, but this has not been the case because the money to convert this from plan to implementation have not been readily accessible. This additional funding, however, gives renewed optimism to Kenya's ambitions, particularly for its main city, Nairobi.
This event comes at a time when Kenya is still reeling from the effects of a gasoline crisis, which has pushed up fuel costs and harmed the living conditions of many Kenyans. Furthermore, the country is dealing with a terrible air pollution issue that is taking lives and harming the health of millions of Kenyans. Over 5000 premature deaths in the country were connected to air pollution in 2019.
These difficult conditions have led to a favourable atmosphere for electric transportation solutions to develop in Kenya, as the government joins private businesses like Little and Bolt in the EV charge.