Borouge Enters Into Agreement to Expand Footprint in East Africa
Posted on : Tuesday , 25th April 2023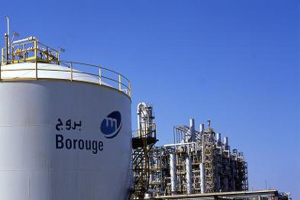 Borouge Plc, a petrochemical company that provides innovative and differentiated polyolefin solutions, has entered into a Distribution Agreement with one of the biggest polyolefin distributors in East Africa, Somochem.
The agreement builds on a long-standing partnership between Borouge and Somochem and aims to increase Borouge's footprint and presence in East Africa. The development comes on the back of Borouge's significant growth in market share in the region.
Over the past 5 years, Borouge has grown its East African sales of infrastructure solutions and doubled its sales volume of advanced packaging solutions. The Company conducted targeted marketing and sales campaigns in the region, with a strong focus on Kenya, Tanzania, Ethiopia, Uganda and Rwanda the fastest-growing countries in the region by Gross Domestic Product (GDP).
According to the African Development Bank, economic growth in East Africa is projected to reach 5% in 2023 and 5.4% in 2024. Market demand has been driven by rapid and substantial infrastructure investment, healthcare improvements, rising living standards and urbanisation.
More than 112 million people in the region do not have access to clean water according to UNICEF, demonstrating the pressing need for high-quality infrastructure to support the development of the region.
Khalfan AlMuhairi, Senior VP, Region MEAE of Borouge, commented, "We are sharpening our focus on the growing demand in East Africa, now a major strategic market for Borouge. We identified a gap in the region for multiple premium solutions, enabling us to unlock opportunities to grow our market share over the next 5 years.
"In 2022, we increased our sales of advanced packaging solutions in East Africa to reach AED496 million ($135 million), and sales of energy and infrastructure solutions to AED184 million ($50 million), demonstrating our position as a reliable and trusted partner to the region's biggest brands and distributors. We are bullish on the future growth in East Africa."
The region has an estimated population of half a billion and is one of the fastest-growing economies in the world, with many global consumer brands capitalising on growth and partnering with Borouge to develop premium and recyclable products.
Borouge launched more than 6 new advanced packaging products which contributed to its organic sales growth. The new sustainable packaging solutions were designed with consumers and industrial premium applications in mind, and are engineered to be safe, lightweight, modern and environmentally friendly.
The petrochemical company plans to launch new grades in 2023 to cater to the evolving demands of the market.
Borouge's range of energy solutions 'Bring Energy All Around' and are used for insulation systems, jacketing for low, medium and high voltage energy transmission and distribution cables. Moreover, Borouge's piping solutions are recognised for their improved processing properties, lower maintenance and installation costs, longer product lifetimes, and increased safety and energy efficiency.