The Kenyan Health Ministry and UNOPS Talk About Developing a Partnership for Infrastructure and Equipment
Posted on : Tuesday , 4th April 2023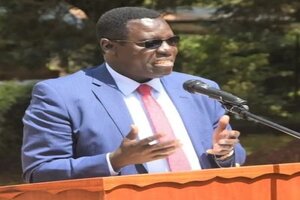 in Nairobi, Kenya Today, a team from the United Nations Office for Project Services (UNOPS) was welcomed by Eng Peter Tum, Principal Secretary of the State Department of Medical Services in Kenya. The team, led by Emma Akinyi, Senior Officer for Partnership Development, and Rainer Frauenfeld, Director of the East & Southern Africa Hub, discussed potential areas of collaboration between UNOPS and the Kenyan Ministry of Health (MOH), with a focus on infrastructure and equipment in the healthcare industry.
The PS emphasised UNOPS and MOH's successful history of working together on immunisation campaigns during the meeting. The main topic of discussion was how a potential partnership between UNOPS and MOH could improve Kenyans' access to high-quality healthcare and help the nation meet its healthcare goals.
The potential partnership between UNOPS and the MOH in Kenya, with a focus on infrastructure development and equipment, is anticipated to open the door for more effective and efficient healthcare services in the nation. Therefore, this development is a step in the right direction towards enhancing Kenyans' health and wellbeing and strengthening the alliance between UNOPS and MOH, according to the PS. The meeting represented a positive step towards enhancing Kenya's healthcare system and raising the standard of living for its citizens.
Source : www.health.go.ke