BasiGo will begin EV assembly in Kenya following a $6.6M investment
Posted on : Friday , 25th November 2022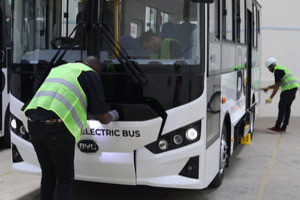 BasiGo will begin building electric buses in Kenya next month, ramping up its production of public transportation vehicles (PSVs) in order to deliver 100 units by the end of next year.
After completing a six-month trial programme in Nairobi, Kenya, the business expects to deliver 15 of the 100 buses, which will be built using parts from China's EV manufacturer BYD Automotive, in January of next year. It also intends to extend its charging infrastructure network, with an initial concentration on Nairobi, where the majority of its clients are based.
The plans come in the wake of a fresh $6.6 million equity fundraising round led by Novastar, an Africa-focused VC firm, Mobility54, Toyota Tsusho's corporate venture capital arm, and Trucks.vc, a Silicon Valley-based VC firm that backs businesses in the transportation industry. BasiGo has already raised a total of $10.9 million since its inception last year.
"As we prepare to deliver the next batch of e-buses, we are putting in place the charging infrastructure needed to service that enlarged fleet. Currently, all of our clients are Nairobi public service vehicle operators, and we are building charging infrastructure to support their operations throughout the Nairobi area. When we start delivering to clients with routes outside of Nairobi, we will extend the scope of our charging network outside the city," BasiGo CEO Jit Bhattacharya, who co-founded the firm with Jonathan Green (CFO), stated.
To encourage adoption, BasiGo's Pay-As-You-Drive concept allows bus owners to purchase electric buses for the same upfront cost as a diesel bus. The operators are then charged a membership fee of $0.17 per kilometre, which includes the leasing of the e-bus battery, charging services, and basic vehicle maintenance.
"In this regard, a BasiGo electric bus always provides a superior return on investment for a bus owner than diesel buses. BYD Automotive, the producer of BasiGo's K6 electric bus, provides an eight-year or 600,000-kilometer battery warranty," Bhattacharya added.
The buses will be available in 25- and 36-seat configurations, with a range of around 250 kilometres, adequate to handle daily round trips. In Kenya's public transportation business, which is now dominated by fossil-fuel buses, the buses are also a cheaper and greener option.
Around 20,000 diesel and gasoline cars shuttle commuters throughout Nairobi, contributing significantly to the air pollution that kills over 18,000 Kenyans each year.
Over the next five years, BasiGo intends to offer over 1,000 mass transit electric vehicles to Kenyan transportation operators.
"Over 90% of Kenya's power already comes from renewables. Nonetheless, Kenya's transportation industry is fully dependent on imported petroleum fuels. By electrifying Kenya's public transportation, we can immediately reduce greenhouse gas emissions, clean up the air in our cities, and provide bus owners with respite from the escalating expense of diesel. "With this additional investment, BasiGo is poised to provide the benefits of cutting-edge electric transportation to all Africans," Bhattacharya added.
The two EV startups in Kenya targeting the mass transit market are BasiGo and its primary competitor Opibus. The introduction of their buses coincides with the government's ambitions to build a Bus Rapid Transit (BRT) network powered by green (electric, hybrid, and biodiesel) vehicles, giving a significant commercial potential for EV companies in the sector.