RWANDA: the revolution of solar-powered multi-service centres in rural areas
Posted on : Tuesday , 8th November 2022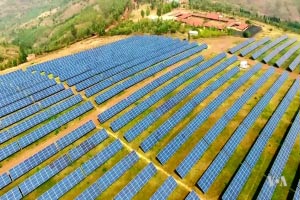 In Rwanda, Solarkiosk Solutions (SKS) and East African Power (EAP) are launching a joint venture to build solar-powered multi-service centres. "The Pulse will expand to other countries in the Great Lakes region.
The productive use of solar energy is taking on a whole new dimension in Rwanda. The Pulse joint venture has been set up to exploit the potential of solar energy in rural areas. It is the result of a partnership between Solarkiosk Solutions (SKS), a company based in Berlin, Germany, and East African Power (EAP), a regional energy provider based in Kigali, Rwanda.
In rural areas, "The Pulse" will build solar-powered shopping centres. This is clearly a multi-service centre that will house a hairdresser, a cinema and a retail shop. It is also expected to provide other services essential to rural life, including clean water, cold storage for crop management, electric mobility and clean cooking.
Development in the Great Lakes Region
Small-scale farmers will also have the opportunity to process and sell their products. According to SKS, "the pulse centre will be scalable due to its modular design and can become the anchor load for decentralised mini-grids as the surrounding communities grow and adopt electricity organically.
A pilot centre will be built in Ruhunda, a town in Rwanda's Eastern Province. The centre will be powered by a 10 kWp solar PV system that will run appliances serving "10 local entrepreneurs and international service providers". SKS and EAP plan to set up 69 "The Pulse" centres across Rwanda. Beyond access to electricity, these solutions are expected to have an impact on the socio-economic development of rural Rwanda where 56% of the population still do not have access to electricity according to Power Africa.
"Based on the encouraging data and the plans made from it, we are convinced that the pulse will become a pan-African success story, benefiting isolated rural populations all over Africa," says Thomas Rieger, CEO of Solarkiosk. This rural development solution will also be exported to other countries in the Great Lakes region, in order to make solar energy a vehicle for community development.