Tanzania's agricultural goals are boosting grain exports in East Africa
Posted on : Tuesday , 1st November 2022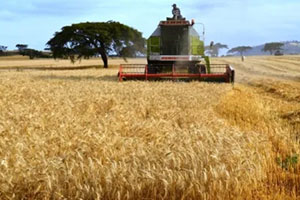 The foundation of Tanzania's economy is agriculture. According to government statistics, the sector employs more than 65% of Tanzanians and accounts for 27% of the country's GDP (GDP).
This is supported by Tanzania's plans to build enormous grain storage facilities and distribution hubs all over East Africa. This situation indicates that Tanzania's desire to increase its grain exports is being strengthened by the sector's surplus, which is gaining traction across markets.
Tanzania strategically carries out its plan for wheat production, which calls for a million-tonne yield increase by 2025.
Some of the major East African Community consumers of Tanzanian grain include Kenya, Uganda, and Burundi.
Tanzanian rice has been able to penetrate Belgium and reach new exportation heights.
Today Tanzania has never had more ambitious farming goals. Through the recently unveiled agriculture plan, the government has stated that it is necessary to completely transform the sector and make agriculture a new economic horizon.
This dedication demonstrates Tanzania's seriousness about making a statement in the industry. The current administration has prioritised industrialization and investment. Samia Suluhu Hassan, the president, has described her strategy for revamping the agricultural industry.
Tanzanian farms are best known for producing both cash and food crops that are sold both domestically and abroad. Maize, sorghum, rice, cotton, cashew nuts, tobacco, tea, and sisal are just a few of the crops grown by Tanzanian farmers.
A revolving fund for agricultural input and development is being established by the Ministry of Agriculture. President Samia suggested that the revolving fund would shoulder the price burden: "At a time when prices for agricultural inputs shoot due to external shocks, the revolving fund will be coming in to cushion farmers."
The budget for research and development has increased dramatically, from $3.3 million to roughly $5 million. A jump from $7.6 million to $22.2 million has been made in irrigation. From $2.4 million to more than $4 million, seed development has increased.
Nothing compares to boots on the ground, particularly when it comes to enhancing farming methods. This is best understood in Tanzania. As a result, the Ministry of Agriculture sent out extension officers and equipped them with the necessary equipment.
The ministry reports that extension officers have been given access to about 7,000 motorcycles. Thousands of soil scanners, tablets, and extension kits, on the other hand, have been given to extension officers dispersed throughout Tanzania's productive agricultural lands.
The National Food Reserve Agency of Tanzania highlights the food trade and supply in Tanzania. Recent statistics from the agency published in the Central Bank of Tanzania's (BoT) monthly economic review show that traders and millers place a high priority on purchasing maize and paddy.
Tanzania's 10-year National Rice Development Strategy Phase II promotes the effective use of fertilisers while constructing irrigation systems for the production of rice (NRDS-II). According to the International Trade Administration (ITA), "the NRDS-II purpose is to double the area under rice cultivation from 1.1 to 2.2 million hectares from 2018 to 2030, double on-farm rice productivity from two to four t/ha by 2030, and reduce post-harvest loss from 30% to 10% by 2030."
Tanzanian rice has managed to secure European markets, particularly in Belgium, in addition to East African markets like Kenya and Uganda.
Kenya, South Africa, and India are now lucrative markets for Tanzanian avocados, on the other hand. Tanzania stands as a chain to capitalise on rice as numbers pivot towards excellence with regard to creating a better and more sustainable grain exportation network.
Accordingly, it was recently reported that Tanzania's export of rice increased from 184,521 tonnes in 2020 to 441,908 tonnes in 2021, generating an increase in revenue from $75 million to more than $203 million. Tanzania produced 2,629,519 tonnes of rice in 2020–21 compared to the demand of 1,091,778 tonnes, leaving a surplus of 1,537,741 tonnes, according to government statistics.