Electric bus debuts in Nairobi to promote clean energy
Posted on : Thursday , 27th October 2022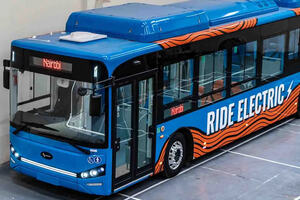 In a city where smog-belching minivans are much more common, a Nairobi-based green mobility business revealed an electric bus that its creators believe will promote ecologically responsible travel.
Although it is the capital of the economic superpower of East Africa, the city of roughly five million people lacks a state-run transportation system, and the colourful bus drove out into the dreaded morning gridlock.
Despite the government lowering tariffs to encourage their use, the city only has one charging station, and electric vehicles are still uncommon on its roadways. But that hasn't stopped Roam, the Kenyan-Swedish business behind the 77-seat bus, from viewing its debut as a watershed moment for Nairobi.
"This signals a change toward better transportation where people can travel in luxury and enjoy the journey with a clear conscience since we're talking about zero emissions," said Dennis Wakaba, project coordinator at Roam.
According to the firm, its flagship model is the first to be outfitted to use Nairobi's rapid transit system, which gives priority lanes for buses to go throughout the city.
The electric bus has a peak speed of 70 km/h (43 miles per hour) and a battery pack that allows it to go 360 kilometres before needing to be recharged. The battery may be completely charged in approximately two hours.
In Nairobi, the majority of commuter transit is privately run, and Roam stated that tariffs on the electric bus will compete with those given by its smokier competitors. Matatus, minivans that are inadequately controlled and maintained and are infamous for hair-raising manoeuvres and trails of black smoke flashing behind damaged chassis, are used by 80% of Nairobi's commuters.
"Nairobi was formerly renowned as the green city beneath the sun. That splendour has faded, but we want to bring it back to life. Nairobi has been regarded as an innovator, and we consider it as an excellent starting place for deploying these buses," Wakaba stated.
Kenya obtains the majority of its energy from renewable sources and aims to reduce CO2 emissions by 32% by 2030. According to government data, the transportation sector accounts for 12 percent of Kenya's carbon footprint, albeit that ratio climbs to 45 percent in Nairobi.
Despite the government making electric vehicles more affordable than ever, it is projected that less than 500 of Kenya's 3.5 million vehicles are electric.
Roam, which also makes electric safari vehicles and motorcycles, says it expects to launch 100 electric buses in the coming year.
BasiGo, another electric transportation company, presented earlier this year a 25-seater bus with a 250-kilometer range for Nairobi's highways.
Driving the new electric bus, Paul Njokah, claimed cleaner vehicles will help to reduce pollution in the city and its accompanying health concerns.
"Kenya's transportation industry is waking up. On the road, we will see more electric vehicles and politeness," 60-year-old Njokah, explained.